ID: 0155 - Apartments / Complex in village of Ravda
Location: Ravda
Size from: 24 sq. m.
Type: Apartment
Price Price starts from:
€36,800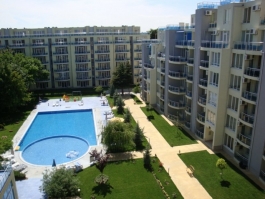 Send to friend
More from the gallery
Hide pictures
General information
Details
Payment plan
Pricelist
Discount
Property management
Description
The complex is situated 20 m from the beach in the small vacation village of Ravda.
Distances:
• Beach - less than five meters
• Shops, Restaurants and Bars - 250m
• Historical Centre of Nessebar- 5km
• Sunny Beach Resort - 9km
• Bourgas International Airport - 20km
Ravda (Bulgarian: Равда) is a coastal village and seaside resort in southeastern Bulgaria, situated in Nesebar municipality, Burgas Province. Ravda is a small seaside resort on the Black Sea, located 3 km from Nesebar and 5 km from Sunny Beach.
The position on the Bulgarian Black Sea Coast provides for the nice weather, quietness and calmness of a country village and the proximity to the attractive resorts Nesebar and Sunny Beach offers plenty of attractions and entertainment possibilities. Ravda has ecologically clean air and water because the resort is far from the big cities and industrial zones. There are no dangerous species such as sharks, poisonous jelly-fish, scorpions, killer snakes, poisonous spiders, or flies.
The complex is finished at year 2006!
Details
Construction:
- Monolithic reinforced construction;
- Walls made of red bricks;
- Thermo and hydro insulation;
- Stone and wood tiled facade;
- PVC joinery;
- Walls and ceilings - plasterboard and latex painted;
- Terracotta tiles;
- Fully equipped sanitary units
Facilities:
• Swimming pool
• Full restaurant, coffee shop, licensed bar
• Reception area
• 24 hour security & a secure car parking area
Type of apartments:
• Studio Apartments from 32.78 square meters
• 1 Bedroom, 2 Bathroom Apartments from 65.34 square meters
• 2 Bedroom, 3 Bathroom Apartments from 121.77 square meters
Payment plan
10 % - deposit from the purchase price of the apartment
90 % - within 30-45 days
Discounts
Buy apartment in village Ravda through our company, "FMF properties" and get a discount of 5%, which is not bound in any way with the concessions given to investors.
To receive the discount upon purchase of an apartment complex in village Ravda given personally by our company, "FMF properties" you must do the following:
Send us E-mail: info@fmfproperties.com
- Phone number to contact you
- Your passport data
- The number of studio or apartment you have chosen in the complex
- The scheme of payment which you are most comfortable
- Short text in which they would like to receive a discount given personally by our company
Once you send us an email with the information requested by us, we will contact you by phone to explain your in details all the other things that interest you to start purchasing your desired apartment.
Property management
Maintenance fee: 6,5 Euro/sq.m. per year. Price excl. VAT.