Properties Albena
Albena resort is located in northeastern Bulgaria, Dobrich region, located 12 km from Balchik, 30 km from Varna and 500 km northeast of Sofia. The beach is 5 kilometers in length and width of 150 meters.
Resort was officially opened on August 24, 1969.
The complex has many modern hotels, located so as to have a view to the beach and good sun exposure. About 90% of the tourists are foreigners.
Albena resort is suitable for a family vacation. It is relatively calm compared to the larger resorts such as Sunny Beach and Golden Sands. Only 10 kilometers away from Albena is situated Balchik botanical garden containing unique plants and architectural palace and park complex, which is the residence of the Romanian Queen [Mary] in the early 20 th century. Albena is located close to the reservation Balata, which is a dense forest near the river Batova.

Pages: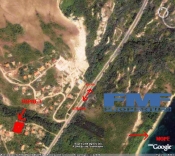 Pages: