ID: 0066 - rent / office/shop
Location: Sofia
Size: 8000 sq. m.
Type: Office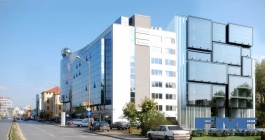 Send to friend
General information
Details
Description
Building rent on floors
1.Monolithic concrete steel construction
2.Common parts- up to 12%
3.Open floor spaces-efficient positioning
4.Clear height- 2,74 m
5.Air-conditioning
-HVAC- 4- pipes air-conditioning and ventilation installation for all office spaces..
-Flowing and suctional air installation – 24 000 m3 fresh air, cooling and heating – supplied by air-conditioning cell, located on the roof. The cell has a recooperation and recirculation, which economizes at about 30 % energy expense. At every level there are 4 anti-fire flaps.
-Self-dependent air-conditioning installation with cold air, supplying only the server rooms. Supplied with 2 convectors at a level, ceiling hung up. The installation is supplied with two chillers – one basic and one spare, connected additionally to the AVR. Chillers – Q = 74 kW cooling.
-Self-dependent air-conditioning 4 piped installation – water/air, supplying the convectors at the floors. Cooling capacity – Q cooling = 508 kW
-Self – dependent air – conditioning installation supplying the restaurant.
Ventilation:
-suctional ventilating system underground levels – management gas analyzers.
-suctional ventilating system of the WC by office levels-management – gauge.
-suctional ventilating system of the kitchens in the offices – management – gauge.
-Emergency blower air installation – staircase cells. It activates only in emergency cases. In case of fire it secures evacuation of the building.
-Blower emergency air installation in the lift-shafts.
6.Electrical supply
-Two independent electrical sources, type AVR.
7.Defective electricity protection at all levels- Measuring the capacity of electricity, supplied by CEZ. If a low quality of the electricity is registered, the protector turns off.
8.Contemporary signaling system for the office spaces: fume optical gauge; if smoking in the offices the fire alarm will turn on.
9.Fire-extinguishing in the underground levels. Sprinkler installation in the underground levels and in the installation shaft of all 12 levels. Aerosol extinguishing in all of the high-voltage panels. Aerosol extinguishing in the server room.
10.Lifts
-Modern high-speed lifts by leading companies – 2,5 m/sec, 2x8 person capacity
-Sound-tracked
-Access control by cards
-The two lifts – in DUPLEX system
-12 stops – 10 floors and 2 underground levels
-Display in the cabin for the floors and above the door of every stop
-Three walls with mirrors
-Floor with non-flammable material
-Concealed lightning
-Emergency lightning
-Photo curtain
-Load control
-Buttons with the Brail alphabet
-Alarm button
-Anti-fire control
-Intercom
-Device for frequency control of the speed
-Gong and vocal announcement.
11.BMS- building management system for all contiguous installations
-Control remote measuring - heat-flow gauge, cold meter, electric meter for each office
-Protection of opening the windows in case of using the climatization
-Protection of freezing of all external climate installations
-Possibility for zone control of the temperature – 7 zones of management
-Software controlling for recooperation and recirculation of the producing of fresh air.
-High efficiency of OVK

12.Structural cabling – category VII
-optical vertical connectivity
-information till 10 Gb
-external joining – by choice of the client.
13.Sound installation of all the lobbies, common parts and lifts.
14.Security
-Modern security system for access and control -ССТV at every entrance and exit
-Electronic card access
-24 - hour security guards
-SOT system
15. Finishing levels of the building
-Walls: painted
-Ceilings: absolutely finished
-Double floors
-Blinds: according to the basic design, with manual control
-Floor box for power supply and communication

Details
Office building class ААА
•Total square surface: 8,000 м2
•Floorage: 10 over ground floors and 2 underground levels
•Square surface-office spaces: 6,171.59 м2
•Square surface-garage: 1,840.41 м2
•Total parking lots: 87 parking lots/ 17 single and 70 on the principle of double automatically parking /
Exposure/possible views
•North-blind wall to Asset bank
•South-blind wall
•West-Entrance and front façade
•East – intern courtyard
Location:
The building is located in the core central part of Sofia, the corner of "Osogovo" str. and "Todor Alexandrov" Blvd.