ID: 0048 - House, Ravda
Location: Ravda
Size: 290 sq. m.
Type: House, villa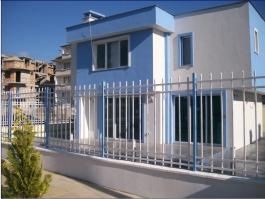 Send to friend
More from the gallery
Hide pictures
General information
Details
Description
Yard, Regulated Land, quadrant 13 following the map of Ravda,municipality Nesebar, district Burgas
Details
The total space of the land is 290 sq.m., the built-up space is 94,60 sq.m. and the opened built-up space is 167,60 sq.m.
The first floor is prepared for hall for bistro. In the bistro there is a bar,room for washing - in it there are professional dish washing machine,kitchenette with new appliances (made in Italy) - oven,furnace for pizza,dough-kneader, gas appliances, deep fryers,grills, fridge windows, toilets and bathrooms for the personnel, visitors etc.
The yard is appropriate prepared for summer garden for the bistro with floor covering - impressed concrete.
In the bistro there are 130 visitor places, but there is a possibility to be placed over 200. The restaurant has a separate entrance from the residential part. The residential part is on the second floor.
In the residential part there are 2 bedrooms, each with separate bathroom and toilet,corridor, kitchenette, washing premise and big balcony.
The structure of the building is solid, armoured concrete. The external walls are covered with 5 cm heat-insulation.
All doors and windows are with PVC joinery.There is a local heating in all rooms. In the rooms there are radioators and air conditioners and in the bathroom there is a small radiator.
The roof is flat and covered with hydro- and heat-insulation. There are 5 sun collectors located on it.
There are 2 water-heaters, each 200 ltr.with 2 serpentines, the first one is for the residential part, the seond one is for the restaurant; there are separate water-meters,electrical installations and security systems.
The building is built up following all requirements.