ID: 0041 - Apartments/Complex "Sofia House", quarter Manastirski Livadi / Complex
Location: Sofia
Size from: 70 sq. m.
Type: Apartment
Prise per sq.m. Price starts from:
€800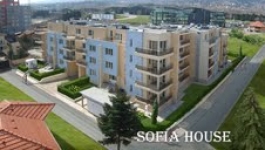 Send to friend
More from the gallery
Hide pictures
General information
Details
Payment plan
Pricelist
Property management
Furniture
Description
"Sofia Hause" is luxury residential complex, closed type, built up for people with dynamic daily round, who need comfort and quietness at the end of the working day. The location of the complex can be descibed as quiet and still place - far from the noise of the city and at the same time it has very easily access - to the middle of Sofia, as well as to mountain Vitosha. Near it there are: blvd. Bulgaria - through it you will reach NDK for less than 10 min ;ring-road - which assures you easily access to every point of the city periphery,as well as to the entrances and exits of the capital.
Neighbourly is situated one of the most prestige quarters - Boiana.
Most of the apartments in the complex have lovely view to Vitosha mountain or Stara Planina mountain. The place is very appropriate for young families with children, who will have the possibility to play on the lawn under the control of their parents. The complex is enclosed and has limited access. The decorative lighted pool, as well as the green garden, creates additional luxury atmosphere.
Details
In the same building there are other apartments for sale with different space and price of 800 euro / sq.m.
Special features:
- southern exposure
- Location: quarter "Manastirski livadi", near to blvd. Bulgaria and Ring-road
- Lovely view to Vitosha mountain,Stara Planina mountain and Sofia
- Luxury complex with green common shares and decorative pool.
- Enclosed and limited access
- Twnty-four-hours security
For the Building:
- New architecture, brick
- Permission for use - Act 16 August 2009
- Thermo-insulation,hydro-insulation
- PVC joinery, three layers glasses
- External armoured doors, internal doors - MDF
- Local gas heating
- Elevator and luxury common shares
- Underground garages; one-,two-, three bedroom apartments
- The building is sold with covering of ground-coat and cement, with assembled heating appliances
Payment plan
Apartments with Act 16 by leasing
- Without income verification and no approval needed
- Obligatory first payment of 30 %
- Payment period: Maximum up to 10 years
- Different schemes of agreement
- 0% fee for payments before the term set
Bonus – 0% administration fee for purchases by leasing!!
Property management
Fee for maintenance of the complex is BGN 5000 or 2500 euros per month for the entire complex,
this amount is allocated to all apartments.
Furniture
Furniture packages:
The price includes economical furniture package incl.: Flooring, latex, switches, plugs and lighting fixtures, bathroom and fully equipped custom kitchen with 4 appliances.