ID: 0266
Location: Sunny Beach
Size from: 44 sq. m.
Type: Apartment
Price Price starts from:
€38,950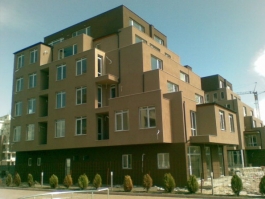 Send to friend
More from the gallery
Hide pictures
General information
Details
Payment plan
Pricelist
Discount
Property management
Furniture
Description
Complex is situated on the Black Sea's very shore, in the Southern part of one of Bulgaria's most renown resorts – Sunny Beach. The Complex is 5 minutes away from the beach, facing the Council of Ministers hotel. Near the beautiful garden, which is part of the complex, there is a river that forms a natural borderline and separates complex from the adjoining structures. The building faces the sea, so you can be sure you'll have a magnificent view from your window.
Details
The complex offers a great diversity of studios, maisonettes, 1 and 2 bedroom apartments, placed on 6 floors with total build-up area varying from 45 sq.m. to 122sq. m. The complex places on your disposal first class sport and leisure facilities, including out-door swimming pool, combined football/volleyball/basketball pitch, tennis court, children's playground, and a splendid 1500 sq. meters garden. The SPA complex provides all the classic features for sterling relaxation – internal Jacuzzi pool, steam and normal sauna, relaxation room and a hydro therapy facility; all the units are central-supplied with hot water. Every apartment will be luxury completed with laminated parquet, German PVC-joinery, terracotta, fully equipped bathrooms, heating collector and an air-conditioner, local heating. All of the flats have external heat insulation and are fit for all the year-round use.
Facilities:
- full restaurant
- lobby bar
- reception
- out-door swimming pool
- luxurious SPA
- internal Jacuzzi pool
- steam sauna
- normal sauna
- hydro therapy facility
- relaxation room
- all the units will have central supply of hot water
- 1500 square meters of gardens
- children's playground
- tennis court
- combined football/volleyball/basketball pitch
- free security parking
Completion date – May 2009!

Payment plan
40 % - within 21 days.
60 % - individual payment plan (possibly paying up to 3 years).
Discounts
Buy apartments or villas in resort Sunny Beach through our company, "FMF properties" and get a discount of 5%, which is not bound in any way with the concessions given to investors.
To receive the discount upon purchase of an apartment or villa in resort Sunny Beach given personally by our company, "FMF properties" you must do the following:
Send us E-mail: info@fmfproperties.com
- Phone number to contact you
- Your passport data
- The number of studio or apartment you have chosen in the complex
- The scheme of payment which you are most comfortable
- Short text in which they would like to receive a discount given personally by our company
Once you send us an email with the information requested by us, we will contact you by phone to explain your in details all the other things that interest you to start purchasing your desired apartment.
Property management
Maintenance fee: 8 EUR/sq.m. annualy