ID: 0265 - Apartments / Complex in Sunny beach
Location: Sunny Beach
Size from: 68 sq. m.
Type: Apartment
Price Price starts from:
€42,182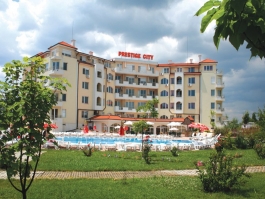 Send to friend
More from the gallery
Hide pictures
General information
Details
Payment plan
Pricelist
Discount
Property management
Furniture
Description
he cokmplex is situated in the quiet southwestern part of the most preferred Black Sea resort – Sunny Beach The location of the complex can be specified by the following coordinates:
Within Sunny Beach complex
From the beach "Cacao beach" - 350-400 m.
From the center of the complex – 1,5 km.
From the policlinic and post office – 2 km.
From the bus-stop - 200 m.
In the surroundings:
From the nearest district town – Burgas - 33 km.
From the airport - 20 km.
Details
The complex represents a four-storeyed building plus a terrace floor and a ground floor, provided with two lifts and including 65 apartments, of which 59 one-bedroom apartments, consisting of one bedroom, a living-room with kitchenette, sanitary unit and one terrace and 6 two -bedroom apartments, consisting of two bedrooms, a living-room with kitchenette, a bathroom, two sanitary units and two terraces.
Restaurant PRESTIGE CITY: having an indoor and outdoor part and BBQ in proximity to the pool for convenience of all guest in the complex
Outdoor pool: for adults and children
Children's playground
Reception
Two lifts
Parking places
Shop
24 hour security
Payment plan
Reservation fee – 2000 evro
Individual payment plan!
Discounts
Buy apartments or villas in resort Sunny Beach through our company, "FMF properties" and get a discount of 5%, which is not bound in any way with the concessions given to investors.
To receive the discount upon purchase of an apartment or villa in resort Sunny Beach given personally by our company, "FMF properties" you must do the following:
Send us E-mail: info@fmfproperties.com
- Phone number to contact you
- Your passport data
- The number of studio or apartment you have chosen in the complex
- The scheme of payment which you are most comfortable
- Short text in which they would like to receive a discount given personally by our company
Once you send us an email with the information requested by us, we will contact you by phone to explain your in details all the other things that interest you to start purchasing your desired apartment.
Property management
Maintenance fee: 7,50 Euro/sq.m. per year. Excl. VAT.
Furniture
Apartments: The apartments are excellently furnished with all extras, ensuring a comfortable and pleasant stay of tourists.
Each apartment offers:
Completely furnished and equipped kitchen – with refrigerator, electric cooker or just built-in hot plates, aspirator, table with chairs, utensils
Living-room – soft extension furniture, small table, TV set cabinet and TV set with cable TV, display cabinet or show case
Air-conditioning in the living-room
Bedroom – two single beds or bedroom suite, wardrobe, mirror, chest of drawers, night tables
Completely furnished bathroom – with shower cubicle or bath-tub pursuant to the architectural design
Terrace.