ID: 0261
Location: Sunny Beach
Size from: 47 sq. m.
Type: Apartment
Price Price starts from:
€63,800
€49,400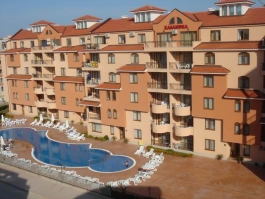 Send to friend
More from the gallery
Hide pictures
General information
Details
Payment plan
Discount
Property management
Description
Holiday village is situated in a calm and quiet region, close to a large park, on a plot of 4200 sq. m. located at Sunny Beach Resort Complex, just 350 meters away from the beach - only 5 min walk to the beach and to the town center of "Sunny Beach" Resort, near to historical old town of Nessebar with possibilities for shopping and cheap restaurants at reasonable price and café- bars, well-functioning transport meanings. "Sunny Beach" Resort is just 25 km away from Sarafovo Airport and 35 km away from Bourgas.
Details
he village consists of four independent sections and comprises:
· Luxury studio, one-bedroom and two-bedroom apartments
· Café- aperitif bar
· Shop for foodstuffs
· Swimming-pool for grown-ups
· Swimming-pool for children
· Area for chaise-longues and recreation
· Parking - lots.
· The village shall have all-year security, seasonal maintenance of outdoor water facilities, green areas and lanes.
Buildings are constructed with:
· Reinforced concrete monolithic construction with brick masonry;
· Building insulation – heat - and hydro-insulation of facades and roof with state-of-the-art environmentally friendly materials;
· Facades covered with color silicate coats;
· Electrical installation individual for each apartment with apartment electric board as well as with separate electric meter in the main electric board in the entrance;
· Water and Sewerage supply installation with environmentally friendly PVC pipes and mounted water meters for each apartment;
· Phone installation;
· Installation for cable TV;
· Intercom installation;
· Luxury elevators for each entrance;
· Staircases coated with granite- grease.
The Holiday village completed in May 2006!
Each section consists of two entrances with bilateral entering with luxury elevators of each entrance. Each apartment has a terrace.
The apartments are luxuriously accomplished and completely equipped with:
· massive entrance doors
· Inside doors – MDF – American type
· PVC front windows and balcony doors with noise-proof and heat-insulating glassware
· Front walls of brick masonry with heat-insulation
· Indoor walls of plaster-board and latex
· Laminated parquets floorings in the living rooms and bedrooms
· Terracotta and granotigress floorings in the corridors and balconies
· Luxury electric light switches and plugs
· Entirely accomplished bathrooms – WC with faience and terracotta, equipped with toilet wash-basins with mirrors, baths, mono-unit, mixing-taps, boilers and ventilators
· Air-conditioner in living-rooms
Payment plan
Reservation fee - 1 000 EUR
1st payment (within 14 days) – 40 % after signing the preliminary contract
2nd payment (within 60 days)- 60 % after first installment
Discounts
Buy apartments or villas in resort Sunny Beach through our company, "FMF properties" and get a discount of 5%, which is not bound in any way with the concessions given to investors.
To receive the discount upon purchase of an apartment or villa in resort Sunny Beach given personally by our company, "FMF properties" you must do the following:
Send us E-mail: info@fmfproperties.com
- Phone number to contact you
- Your passport data
- The number of studio or apartment you have chosen in the complex
- The scheme of payment which you are most comfortable
- Short text in which they would like to receive a discount given personally by our company
Once you send us an email with the information requested by us, we will contact you by phone to explain your in details all the other things that interest you to start purchasing your desired apartment.
Property management
Maintenance fee: 7.20 e/sq.m.