ID: 0033 - Apartments / complex Rich Daddy / Complex / Apartment
Location: Pomorie
Size from: 39 sq. m.
Type: Apartment
Prise per sq.m. Price starts from:
€1,856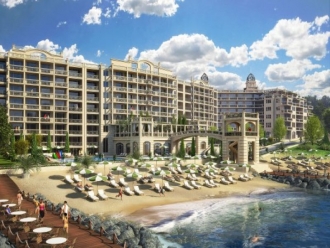 Send to friend
More from the gallery
Hide pictures
General information
Details
Payment plan
Pricelist
Discount
Property management
Description
Completion of construction - summer 2010.
Situated at the southern entrance of Pomorie. RICH DADDY BEACH RESORT & SPA have a unique location on a quiet beach with a gorgeous southern view to the Bourgas Bay.
On 6 min from the airport and 15 minutes from the center of Bourgas, 15 minutes from the beautiful ancient town of Nessebar and the largest Black Sea resort Sunny Beach.
East and west side has only two adjacent complex one - the hospital and sanatorium.
RICH DADDY BEACH RESORT & SPA is located in an area of 9300 square meters on the beach and consists of 180 apartments - studios, one, two and three bedrooms, all - with a sea view. Each apartment has a balcony facing south, south-east or south-west exposure. The apartments are centrally air-conditioned and heated in winter with individual metering.
The complex is gated and in six sections, each with separate entrance and elevator. The sections are multilevel and follow the slight inclination of the terrain.
The architecture is lavish, rich, neo-classical style. Buildings, apartments and facilities will be built with materials and finish of the highest quality and will provide unmatched luxury for its residents.
Beautifully landscaped park and outdoor pool on three separate levels suffer from the beach, which is a few meters from it.
Details
RICH DADDY BEACH RESORT & SPA provides owners and guests a wide choice of facilities:
Outdoor swimming pool - located in an area which has three levels with separate children's area and space for sun beds and umbrellas.
Indoor swimming pool - it is located in the central section, near the spa center and enjoy year round.
-sauna with small pool and relax area
-Russian Baths
-Jacuzzi
-massage rooms
-solarium
-baths for underwater massage
-rooms for exotic procedures
Mud center - located on e more than 800 square meters in section E and is a unique feature of this luxury complex. The famous Pomorie mud lake is known for its healing properties. Mud procedures treating chronic inflammation, pain and have removed bio-stimulating effect (accelerating metabolism and cell regeneration).
Fitness Center - located next to the SPA center of 80 square meters area and will be equipped with modern exercise equipment, loads, speed tracks, etc. The exercises will be recommended and guided by a fitness instructor.
Beauty centre, which will be performed cosmetic procedures, hair and other services.
Surgery, where a specialist will advise and appoint and mud spa procedures, according to the individual needs of each one.
study hall - the care of qualified staff, the children will play while you are welcome guests or procedures in the SPA center.
RESTAURANTS AND ENTERTAINMENT
Although the apartments will have fully furnished kitchens (to be quoted in the furniture package), Rich Daddy offers opportunities for elegant meals and entertainment. Restaurant "RD" will serve modern French and Italian cuisine in a pleasant atmosphere, dance floor and live music.
"Genghis Khan" Barbecue will offer guests and owners to prepare their own mix of barbecued grill flavor and spices in the ancient Mongolian tradition.
Winery will offer a wide choice of selected Bulgarian and imported wines.
Coffee bar on open balcony to the lobby will take care of drinks and cocktails throughout the day.
Piano bar / disco in the underground floor for those who enjoy a nice relaxing music, dancing and cocktails until late at night.
Cigar bar, next to the piano bar, will offer quality cigars in the pleasant atmosphere of artistic striptease.
Pool bar will serve external and internal swimming pool and offers exotic cocktails, drinks and alcohol served to you on chaise-longues.
Games room equipped with darts, chess, cards and electronic games. Beverages will be served.

Payment plan
- Reservation fee - EUR 5 000
- First installment - 30% of the cost - up to 10 working days of signing the preliminary contract (minus reservation with a contribution).
- Second installment - 40% of the price - at completion of rough construction and elevation "ridge" of the section in which the client's apartment.
- Third installment - 30% of the price - prior to confessing to the transaction - a certificate of service.
Discounts
Buy apartment in "Daddy Rich" by our company, "FMF properties" and get a discount of 5%, which is not bound in any way with the concessions given to investors.

To receive the discount upon purchase of an apartment complex Rich Daddy "given personally by our company," FMF properties "you must do the following:
Send us E-mail: info@fmfproperties.com
- Phone number to contact you
- Your passport data
- The number of studio or apartment you have chosen in a complex Rich Daddy "
- The scheme of payment which you are most comfortable
- Short text in which they would like to receive a discount given personally by our company
Once you send us an email with the information requested by us, we will contact you by phone to explain your pordobno all other things that interest you to start purchasing your desired apartment

Property management
RICH DADDY BEACH RESORT & SPA offers free and paid services:
1. Free services are covered by your annual fee "support" and include:
- Security
- Swimming pool, umbrellas and lounges
- Use the mechanical fitness equipment, sauna, Russian bath and jacuzzi
- Maintenance of parks and green parts
- Cleaning of common parts and maintenance equipment
- Reception, booking of tickets
- Property management - metering of electricity, water, pay them on behalf of the owner and the keeping of his accounts
- The use of open spaces
2. Paid services include:
- Procedures and programs in the mud treatment
- Medical advice
- Massage
- Solarium
- Cosmetic procedures and beauty services Beauty Salon
- Water-jet massage
- Nursery
- Transportation to / from airports Burgas and Varna
- Shuttle bus to Nessebar, Sunny beach, marina in St Vlas
- Apartment cleaning, changing linen and towels, supplies
- Dry cleaning and laundry
- Satellite / Cable TV, Internet, phone, etc..
- Secretarial services - print, translations, photocopies
- Organization of group and individual travel
- Shopping trips to Burgas malls and supermarkets
- Underground parking
- Room service - food and drink