ID: 0237
Location: Sveti Vlas
Size from: 43 sq. m.
Type: Apartment
Price Price starts from:
€43,155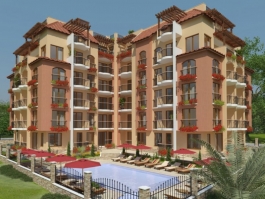 Send to friend
More from the gallery
Hide pictures
General information
Details
Payment plan
Pricelist
Discount
Rentals
Description
Luxury Sea View Apartments!
Villa is a seaside beauty in a prime location only 150 m. by the sandy beaches of the most trendiest resort on the Bulgarian black-sea coast Saint Vlas . If you are looking for a relaxed summer holiday or a secure investment spot, St. Vlas is the place to consider.This small family resort enjoys an excellent seaside location. The unique combination of mountain and sea confirms St. Vlas as a preferred tourist place. The fresh air of see breeze and puff of pine tree wind is a rare gift of nature. The tranquil site is very close to the posh Sunny Beach resort (5 km) and the romantic old town of Nessebar (9 km). The exclusive complex Dali offers luxury studios and 1-bedroom apartments, many with sea views, distributed in two residential buildings.
Details
Sun-kissed holiday homes in a trend-setting position, fine architectural design in classic Mediteranean style, extremely elegant interiors and an excellent standard of finish, with high quality care and precise attention to every small detail. The complex comprises reception area which simplifies the rental process. Available are swimming pool for adults and children, fitness center with sauna, cozy children playground area, landscaped gardens and luxurious sun roof terrace equipped with sun beds and Jacuzzi.
There are two key investor advantages, unique to Villa:
- Adjacent apartments purchased as multiple units can be joined during construction to form larger properties.
- Flexible payment plans with discount options.
Payment plan
Payment plans:
Option 1:
Standard payment plan
You pay 30 % upon signing a preliminary contract, 40 % when the rough construction is finished and 30 % upon signing a title deed
Option 2:
10 % discount
You pay 90 % upon signing a preliminary contract and 10 % upon signing a title deed
Option 3:
5 % discount
You pay 60 % upon signing a preliminary contract and 40 % upon signing a title deed
Discounts
Buy apartments or villas in resort Sunny Beach through our company, "FMF properties" and get a discount of 5%, which is not bound in any way with the concessions given to investors.
To receive the discount upon purchase of an apartment or villa in resort Sunny Beach given personally by our company, "FMF properties" you must do the following:
Send us E-mail: info@fmfproperties.com
- Phone number to contact you
- Your passport data
- The number of studio or apartment you have chosen in the complex
- The scheme of payment which you are most comfortable
- Short text in which they would like to receive a discount given personally by our company
Once you send us an email with the information requested by us, we will contact you by phone to explain your in details all the other things that interest you to start purchasing your desired apartment.
Rental
The complex offers rental management.