ID: 0226 - Apartments / Complex in Saint Vlas
Location: Sveti Vlas
Size from: 29 sq. m.
Type: Apartment
Price Price starts from:
€30,313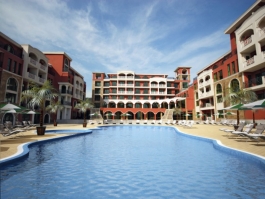 Send to friend
More from the gallery
Hide pictures
General information
Details
Payment plan
Pricelist
Discount
Property management
Furniture
Description
Тhe complex is situated in the very beginning of Saint Vlas on the road from Sunny Beach to St. Vlas. It is also located near the Balneological Sanatorium. The development lies tucked in the soft embrace of the fresh mountain air and benefits from a splendid view to the sea from 3 directions - east, south and west. The green south side of the mountain is visible from the north. The compound offers year-round service and luxurious conditions of habitation.
Details
The complex has three blocks with variety of one-, two-, and three bedrooms and studios. Dwelling for sale are facing up all geographic directions and offer a range of views. Each apartment has a balcony. The complex has an underground parking and service rooms.
Block A - Five levels, 51 apartments, 2 offices, shopping-centre
Block B - Five levels, 38 apartments, 3 offices
Blocks C and D - Six levels, 48 Apartments, SPA centre, restaurant, day bar, vitamin bar, lobby bar, discotheque
Block E - One level, 30 Garages
Completion date: May 2010!
Construction:
Monolithic building construction;
Outer walls made f 24 cm bricks;
Inner walls made of 12 cm bricks;
Facade - water resistant silicate coloured plaster with a partial tiling
Type of apartments: studios and one-bedroom apartments.
Payment plan
Reservation fee – 2 000 Euro
Individual payment plan!
Discounts
Buy apartments or villas in resort Sunny Beach through our company, "FMF properties" and get a discount of 5%, which is not bound in any way with the concessions given to investors.
To receive the discount upon purchase of an apartment or villa in resort Sunny Beach given personally by our company, "FMF properties" you must do the following:
Send us E-mail: info@fmfproperties.com
- Phone number to contact you
- Your passport data
- The number of studio or apartment you have chosen in the complex
- The scheme of payment which you are most comfortable
- Short text in which they would like to receive a discount given personally by our company
Once you send us an email with the information requested by us, we will contact you by phone to explain your in details all the other things that interest you to start purchasing your desired apartment.
Property management
Maintenance fee: 10 Euro/sq. m., incl. VAT, per year.
Furniture
Furniture is included in the purchase price of the apartments.