ID: 0195 - Apartments / Complex in Lozenets
Location: Lozenets
Size from: 51 sq. m.
Type: Apartment
Price Price starts from:
€51,150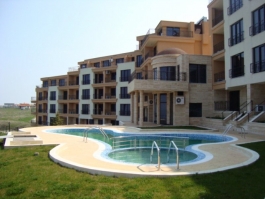 Send to friend
More from the gallery
Hide pictures
General information
Details
Payment plan
Pricelist
Discount
Property management
Furniture
Description
Lozenets is a seaside resort on the southern Bulgarian Black Sea Coast and lies some 60 km. away from the regional town of Burgas. Lozenets was founded in 1924 by Bulgarian refugees, who were initially put up in Velika village, but moved to the seaside in search of better conditions. They in the area, where, according to the tradition, the old vineyards of Tsarevo used to be located. Today the village is a bustling tourist centre - the beach is hug, clean, and the beach line is one of the largest in the South Black Sea Coast. Lozenets is an uniquely blend of expansive beaches with crystal clear water, lot of sun, flowers and the virgin nature of Strandja mountain.
Details
The complex offers two swimming pools, cafe, bar, water bars, summer houses, lounge chairs and sunshades. Your children can play at large. Enjoy the wonderful places for walks. There is a underground parking lot, secuirity and year round maintenance.
Construction:
- Monolithic reinforced construction;
- Walls made of bricks;
- Thermo and hydro insulation;
- Coloured plaster;
- Noiseless elevator;
- Nice railings
Payment plan
Reservation fee – 2 000 Euro
40 % - at signing of the preliminary contract
60 % - within 6 months
Independent payment plans are possible - payment upon notarization - up to 1.5 year – 10 % interest.
Discounts
Buy apartments or villas in resort Nessebar through our company, "FMF properties" and get a discount of 5%, which is not bound in any way with the concessions given to investors.
To receive the discount upon purchase of an apartment or villa in resort Nessebar given personally by our company, "FMF properties" you must do the following:
Send us E-mail: info@fmfproperties.com
- Phone number to contact you
- Your passport data
- The number of studio or apartment you have chosen in the complex
- The scheme of payment which you are most comfortable
- Short text in which they would like to receive a discount given personally by our company
Once you send us an email with the information requested by us, we will contact you by phone to explain your in details all the other things that interest you to start purchasing your desired apartment.
Property management
Maintenance fee: 12 Euro/sq.m. per year. Price include VAT.
Furniture
Apartments: we offer for sale excellently furnished apartment with all necessary electrical appliances. Perfectly equipped bathrooms and WCs - sanitary wear, shower box or bath tub.