ID: 0192 - Apartments / Complex in Ravda
Location: Ravda
Size from: 74 sq. m.
Type: Apartment
Price Price starts from:
€49,425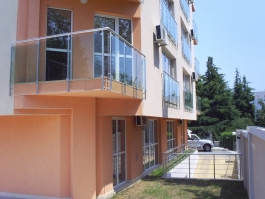 Send to friend
More from the gallery
Hide pictures
General information
Details
Payment plan
Pricelist
Discount
Description
Ravda is 35 km North of Burgas city and only 2 km South of the modern sea resorts of Sunny Beach and Nessebar.
Details
Total area 2 399 sq. m. The building has five floors and a lift. There are four apartments on each floor. There are 20 parking places in the basement. All apartments are equipped with air-conditioner, on terrace floor – two numbers, option to be used all year round. Electrical convectors are installed in every room. There is room for non-stop guard.
Use Certificate has been provided for the building (Act 16).
Type of apartments: one-bedroom and two-bedroom apartments.
1. Type of construction – solid;
2. Entrance door – veneer;
3. Walls and ceilings – latex paint;
4. Floors: entrance hall – granitogress; sitting-room, bedroom – laminate;
5. Toilet, bathroom: floor, walls – granitogress, ceiling – latex paint; Sink, toilet + porcelain water flush, shower panel;
6. Telephone and TV output;
7. Joinery – aluminum;
8. Inside doors – interior ply doors;
9. Water-main – polypropylene pipes, water meter, boiler;
10. Garages: ground – polished concrete; walls, ceiling – distemper paint;
11. Air-condition split system;
12. Fencing – solid concrete H=220 cm. 2/3 parts - solid, 1/3 part – fretwork.
Payment plan
Reservation fee – 2 000 Euro
Individual payment plan!
Discounts
Buy apartments or villas in resort Nessebar through our company, "FMF properties" and get a discount of 5%, which is not bound in any way with the concessions given to investors.
To receive the discount upon purchase of an apartment or villa in resort Nessebar given personally by our company, "FMF properties" you must do the following:
Send us E-mail: info@fmfproperties.com
- Phone number to contact you
- Your passport data
- The number of studio or apartment you have chosen in the complex
- The scheme of payment which you are most comfortable
- Short text in which they would like to receive a discount given personally by our company
Once you send us an email with the information requested by us, we will contact you by phone to explain your in details all the other things that interest you to start purchasing your desired apartment.