ID: 0191 - Apartments / Complex in Ravda
Location: Ravda
Size from: 61 sq. m.
Type: Apartment
Price Price starts from:
€59,927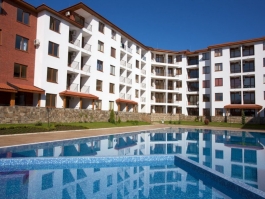 Send to friend
More from the gallery
Hide pictures
General information
Details
Payment plan
Pricelist
Discount
Property management
Description
The complex is situated between the village of Ravda and the town of Nessebar, and it is just 200 metres away from the sea!
Advantages - Aqua park/300 metres away/, beach
Distance from Nessebar twon - 2 km
Distance from Sunny Beach tourist resort - 3 km
Distance from Burgas airport - 30 km

Details
The complex comprieses 7 sections on 5 floors - A, B, C, D, E, F and G, each one with a lift. The complex is finished on 14.08.2009. The complex has Act 16!
Total area of land plot – 8 095 sq. m.
Wide built up area – 11 945 sq. m.
Number of apartments - 170
Type of apartments: Studios – 26, One-bedroom apartments – 65, Two-bedroom apartments – 69, Three – bedroom apartments – 10.
Facilities:
- Cafe
- Two swiming pools with children's section
- Wet-bar
- Parking zone
- All year round security
- Pool view apartments – 60 %
Payment plan
100 % payment within 15 days.
There are available individual payment plans!
Discounts
Buy apartments or villas in resort Nessebar through our company, "FMF properties" and get a discount of 5%, which is not bound in any way with the concessions given to investors.
To receive the discount upon purchase of an apartment or villa in resort Nessebar given personally by our company, "FMF properties" you must do the following:
Send us E-mail: info@fmfproperties.com
- Phone number to contact you
- Your passport data
- The number of studio or apartment you have chosen in the complex
- The scheme of payment which you are most comfortable
- Short text in which they would like to receive a discount given personally by our company
Once you send us an email with the information requested by us, we will contact you by phone to explain your in details all the other things that interest you to start purchasing your desired apartment.
Property management
Maintenance fee: 6 Euro/sq. m. per year.