ID: 0170 - Apartments / Complex in Pomorie
Location: Pomorie
Size from: 56 sq. m.
Type: Apartment
Price Price starts from:
€76,092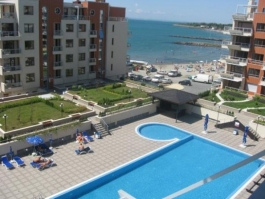 Send to friend
More from the gallery
Hide pictures
General information
Details
Payment plan
Pricelist
Discount
Property management
Rentals
Description
The complex is located in Pomorie town situated about 20km from bustling Burgas and its Internationa airport.
The different parts of the complex are arranged around the swimming pool and if you decide to walk along the beach you will reach the center of Pomorie town.
The sea is about 10 meters away from the complex.
Details
The complex offers:
- each apartment is with a balcony
- air conditioning in each room
- lift to all floors
- sauna, massage and fitness centers
- beauty shop
- laundry services
- photo shop
- swimming pool
- cafes, shops and restaurant
- children playground
- 157 covered parking places
The complex has modern healing center with all kind of procedures such as:
- gynaecological baths
- mud-curing
- electrical treatment
- other
There is modern fully equipped sanator.
Payment plan
Reservation of the apartment - 2 000 Euro.
-1st Payment - for additional 15 days Preliminary contract - 40% of the price
-2th Payment - 60% of the price – 2 months after Preliminary contract.
Independent payment plans are possible.
Discounts
Buy apartments or villas in resort Pomorie through our company, "FMF properties" and get a discount of 5%, which is not bound in any way with the concessions given to investors.
To receive the discount upon purchase of an apartment or villa in resort Pomorie given personally by our company, "FMF properties" you must do the following:
Send us E-mail: info@fmfproperties.com
- Phone number to contact you
- Your passport data
- The number of studio or apartment you have chosen in the complex
- The scheme of payment which you are most comfortable
- Short text in which they would like to receive a discount given personally by our company
Once you send us an email with the information requested by us, we will contact you by phone to explain your in details all the other things that interest you to start purchasing your desired apartment.
Property management
10,80 EUR/sq.m. per year.
Rental
the complex offers rental management.