ID: 0167 - Apartments / Complex in Golden Sands
Location: Golden Sands
Size from: 47 sq. m.
Type: Apartment
Price Price starts from:
€59,786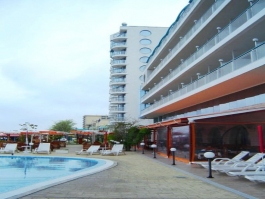 Send to friend
More from the gallery
Hide pictures
General information
Details
Payment plan
Pricelist
Discount
Property management
Rentals
Description
The complex is situated in the north part of Golden Sands resort directly on the white sands of Black Sea Coast and near the yacht port.
The unique location and impressive architecture of the hotel, along with its great number of amenities, facilities and extras of this hotel features makes it an enjoyable place to stay.
An overall atmosphere of beautiful, seaside serenity delight the guests since the first moment. In addition, area attractions and venues that guests would like to experience are all around.
Details
Modern hotel complex (4 stars) consisted of 276 standard and family rooms and apartments situated at two parts - 6 storied building (newly constructed part) and 11 storied building (completely renovated part).
Rooms:
First-class studios and apartments with sea view
After spending peaceful days on the beach, a long day of sightseeing, business or pleasure, guests will look forward to retiring to the tastefully furnished hotel rooms, which are well equipped to meet the needs and expectations of modern travellers. Each spacious, comfortable room is beautifully decorated and all rooms offer a full range of modern amenities like air-condition, direct dial telephone, mini bar , SAT-TV, hair dryer, black-out curtains, shower or bath, balcony. Rooms with sea- and park view.
Studios:
Equipped and furnished like the standard rooms but much more spacious, with lounge area and possibilities for accommodation of a third/ fourth person.
Apartments:
With area more than 50 sq. m. and equipped and furnished like the standard rooms but with an extra living/sleeping room for a third/fourth person. All apartments are with a sea view.
Facilities and amenities:
- parking
- rent-a-car
- laundry service
- safety deposit boxes
- business centre
- gift shops
- restaurant with a sunny terrace and live music (a-la-carte restaurant)
- bars (lobby bar, fitness bar, pool bar)
- hairdressers
- exchange office
- internet
Guests can find at the hotel: fitness hall, sauna, massage, medical services, beauty salon, in- and outdoor swimming pools with mineral water, sun beds with matraces, sun umbrellas and beach towels
Sport and entertainment:
The complex offers games and entertainments for kids
- in- and outdoor swimming pools, sun beds, sun umbrellas and beach towels
- billiard, table tennis, darts
- internet
- sauna, fitness hall
- morning- and water gymnastics
- animation program and evening shows
- tennis court in LTI – Berlin Green Park Hotel
Wellness center:
- medical cosmetics
- aromatherapy, massage
- medical services
- hairdressers
Business center:
- Hall Sofia - 15 seats.
- Hall Berlin – up to 100 seats, depending on the layout. Equipped with a flip chart.
- Possibilities for hiring of a multimedia, overhead projector, microphones and for interpreting services.
- Organizing of transfers, excursions and related social events, by request.
- Business services (fax, internet, copying, printing, secretarial services).
Facilities for children:
- playground
- children pool
Payment plan
Reseravtion fee – 2 000 Euro
100 % from the purchase price of the apartment due 1 month.
There are available individual payment plans on request.
Discounts
Buy apartments or villas in resort Golden Sands through our company, "FMF properties" and get a discount of 5%, which is not bound in any way with the concessions given to investors.
To receive the discount upon purchase of an apartment or villa in resort Golden Sands given personally by our company, "FMF properties" you must do the following:
Send us E-mail: info@fmfproperties.com
- Phone number to contact you
- Your passport data
- The number of studio or apartment you have chosen in the complex
- The scheme of payment which you are most comfortable
- Short text in which they would like to receive a discount given personally by our company
Once you send us an email with the information requested by us, we will contact you by phone to explain your in details all the other things that interest you to start purchasing your desired apartment.
Property management
8 Euro/sq. m. annually. Price include VAT
Rental
the complex offers rental agreement.