ID: 0166 - Apartments / Complex in Pimorsko
Location: Primorsko
Size from: 42 sq. m.
Type: Apartment
Price Price starts from:
€48,863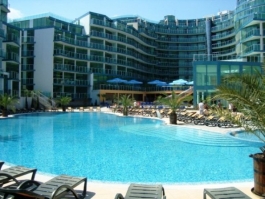 Send to friend
More from the gallery
Hide pictures
General information
Details
Payment plan
Pricelist
Discount
Property management
Furniture
Rentals
Description
Set on the sea shore of resort Primorsko, the complex is a place of spellbinding luxury where a glamorous location and comfortable, contemporary amenities come together.
The distinguished Complex comprises of seven separate sections with an availability of two hundred and eight sea or mountain view apartments, all of which come with fitted kitchens included in the price.
Details
As part of the complex acts the 5-star Hotel. Primorsko resort has one of the best beaches along the southern Black Sea coast, with fine sand and a shallow sea, set 50 meters from the Complex complex.
The resort enjoys a tourist season that runs from May till October. Besides sunbathing and swimming, there is water-skiing, wind-surfing, hand-gliding, parascending fishing. The high ecological standard of the resort won a Blue Flag Award. In close proximity to Primorsko is the Ropotamo Natural Reserve and the Perla River, where tourist trips are available.
Completion Schedule
• The construction of the complex was started in November 2006.
• The completion works are currently being finalized.
• All apartments will be completed by 30th July 2008.
Complex: amenities
The inviting apartments resonate with the tranquillity of the area and the harmony of the amenities offered, namely:
• 24-hour reception desk and lobby bar;
• room service;
• Outdoor and Indoor swimming pools with children zones;
• Children playgrounds and kindergarten;
• Recreation centres;
• Shops;
• Restaurants, Cafes/Pastry shops;
• Apartment Owners' Club;
• Night club & Casino;
• Sports & Health complex;
• Multifunctional fitness hall;
• Sauna and Turkish bath;
• Spa centre in the hotel next to the complex
Standard of Apartments
Details:
• bathrooms: ceramic tiles, sanitary ware, sinks, toilet bowls, taps and toilet cisterns, first quality Spanish production;
• water supply installation and drainage, installed with pipes covered with enmeshed polyethylene for the water-conduit and PVC for the drainage;
• electrical installation, fitted entirely with flat electrical board, with circuit-breakers, contacts and terminals installed for TV antenna;
• floors - laminated parquet of class 31, colour Dunhill;
• walls and ceilings - plaster ground coat and emulsion ;
• terraces - granitogres;
• doors - internal;
• Kitchen furnishing - upper and lower kitchen cupboards, 2 electrical hot-plates; extractor, refrigerator;
• cable television and internet access;
• underground parking area
There is a possibility of supplementary negotiation for provision of the entire furnishings. The support and technical personnel will take care of everything. The area of the complex is fenced and secured all year long.
Payment plan
1000 Euro reservation deposit, non-refundable.
50 % first installment minus the deposit when signing the preliminary contract some 30 days after the deposit is paid
50 % second installment on transferring the title deeds (not later than the end of July 2008).
Discounts
Buy apartments or villas in resort Primorsko through our company, "FMF properties" and get a discount of 5%, which is not bound in any way with the concessions given to investors.
To receive the discount upon purchase of an apartment or villa in resort Primorsko given personally by our company, "FMF properties" you must do the following:
Send us E-mail: info@fmfproperties.com
- Phone number to contact you
- Your passport data
- The number of studio or apartment you have chosen in the complex
- The scheme of payment which you are most comfortable
- Short text in which they would like to receive a discount given personally by our company
Once you send us an email with the information requested by us, we will contact you by phone to explain your in details all the other things that interest you to start purchasing your desired apartment.
Property management
9 e/sq.m.
Rental
There is an opportunity to provide good management of the property and high standart rental service.