ID: 0071 - Plot / Balchik / Albena
Location: Albena
Size: 702 sq. m.
Type: Plots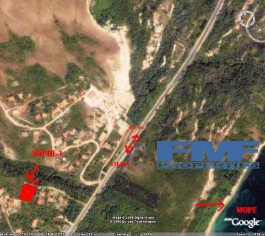 Send to friend
More from the gallery
Hide pictures
General information
Details
Description
3rd place on the coastal road.
300 m from the sea.
Quiet, green and ecologically clean area.
Tampered with amazing sea view.
With a splendid view of Kaliakra, Balchik, Albena.
The plot is oriented south-east.
Bus stop.
Details
The plot of 720m2 is validated project 2 floors house with 180m2 living area. Includes 4 bedrooms, 3 bathrooms, panoramic terrace, etc.
Sold together or separately.
Correct documents.
The new villas are built in the region - a property of Bulgarians, Englishmans, Germans and others. Year-round and seasonal residents.