ID: 0053 - Apartments/complex "Casa Grande" , quarter " Krustova Vada" / Complex
Location: Sofia
Size from: 54 sq. m.
Type: Apartment
Prise per sq.m. Price starts from:
€850
€800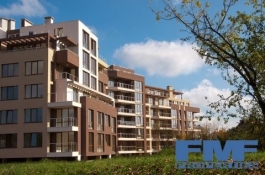 Send to friend
More from the gallery
Hide pictures
General information
Details
Payment plan
Pricelist
Description
"Casa grande" is a new luxury complex in quarter "Krustova Vada".
The quarter "Krustova Vada" is located on both sides of blvd. "Cherni vrah", from Southern Park - Srebarna street to quarter Dragalevtsi. Reconstruction and enlargement of blvd." Cherni Vrah" are expected to be done soon, as well as construction of a subway station in the area.
This is a very urgent project for the Capital Municipality , because it is one of the most important connections.
The location of "Casa Grande-Vitosha" offers an easy access to the entrances an exits of the city, suitable common transport, fast access to airport Sofia.
Quarter "Krustova Vada", where the complex is situated, is perspective, fast growing south area, near the centre through blvd."Cherni Vrah", between the luxury quarters Losenets and Dragalevtsi.Very close to it are located the Southern Park,Vitosha mountain and the ski lift. The quarter is well known with its quiet atmosphere and fresh air, unique view to Vitosha mountain and to Sofia.
Near it there are bus stations of:
common bus line № 64
common bus line № 93
common bus line № 98
common bus line № 122
tramlines – № 9 and № 10
Details
Residential complex, containing of buildings with shops, offices and garages.
The complex is built up on plot of 3000 sq.m.
It consist 3 buildings, in which there are 108 apartments total, ground commercial floors, over- and underground parking places and garages.
Opened built up plot of 13 000 sq.m.
Energy supply - separately gas heating
Access control to the residential part.
The trade part includes ground floor with plot of 1400 sq.m., the access to it is through separate entrances,facing the street. The residential part is divided on 5 entrances with total 108 apartments.
The buildings are designed by a way that each apartment has one underground parking place.
The location of the apartments offers optimal possibilities for small an bigger families.
Access control and twenty-four-hours video control guarantee quietness.
Kind of building:
Monolythic
Armoured-concrete, "no beams" structure, external enclosing walls, made of ceramic bricks and internal distributing walls made of bricks.
Heat- and hydro-insulation, materials from highest class,corresponding to the European quality requirements.
Height of the floors - 2.80 m
The apartments are offered with finishing works - faience, terracotta, laminate cover, internal interior doors, walls and ceilings - colored latex.
Apartments:
Floors - fine paste cement - laminate
Walls - plaster ground-coat, washing premises - lime ground-coat - latex
Ceilings - plaster ground-coat, washing premises - lime ground-coat - latex
Five layers PVC joinery with glasses / low emission glass/ with appropriate colors
Aluminium joinery with appropriate colors
Entrance doors - metal armoured door, equipped with locks with multi-locking system, block-catch,floor gland and hidden hinges.
Internal interior doors - verneered smooth frames and edges, made of solid MDF.
Electrical installation - power points and keys, without light fittings
Water supply – polypropylene and PVC pipes, water-meters, bathroom faience.
Heating and ventilation - separate combined cauldron, working with natural gas for heating and hot water, assembled radiators.
Other installations - low power supply: telephone installation, TV Cables, Internet, Security.
Door phone-,electric bell- and thundersecurity installation systems, Balcony and floor- frost-resisting granite;parapet
Storage premises at the ground floor:
Walls – ground coat
Floor- paste cement
Ready electrical installation with key and socket
Doors
Additional could be assembled air conditioner, fireplace, radiators, water-heaters.
Common shares - stairs:
Cover - italian granite, porcelane stoneware - first quality
Walls: following designers project
Elevators - from world class manufacturers - quiet, smooth moving, luxury cages
In case of damage or stopped energy supply the elevator goes to the closest floor and opens its doors.
Ceilings - plaster ground coat, latex, designers finishes,designers elements
Electrical installation with keys and light fittings following the project
Corridors - look of Five stars hotel, luxury entrances
Family post boxes
Internal yard - planted, secured with crossing gate
Underground Parking Places:
Floor – grinded concrete covering
Lightening - luminescent lamps with electrical balance and movement senors
Floor heating for the entrances and exits of the garages
Fire warning system
Facades:
Following the project - color mineral plasters, hang-up ceilings
The underground infrastructure includes construction of platforms with appropriate slope and lenght, excellent lightening, access control through chips. All elevators have access to the underground levels, as this makes easier the connection between the apartment and parking place. "Casa Grande Vitosha" will offer a big area with public access to the different trade areas. There is planned construction of restaurant,dry cleaning, children area, fitness, cosmetic studio with SPA and different kind of shops.
Vertical planing:
Built-up with planted, pavements, lightening, fences, crossing gate.
The roof is flat with heat-and hydro-insulation, with internal draining
Drainage,water-main, electrical installation - executed with German materials.
Payment plan
- Different Payment plans
- Individual playment plan!