ID: 0022 - Storage-building/Plovdiv
Location: Plovdiv
Size: 381 sq. m.
Type: Industrial property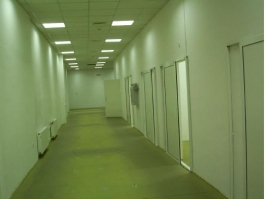 Send to friend
More from the gallery
Hide pictures
General information
Description
Luxury full drug store in Plovdiv, Northern Industrial Zone (central Bulgaria). Situated on the ground floor of an office building with two offices, foster room, rest room, common storage area and cozy shtest warehouses (including room and flammable narcotic drugs). Four bathrooms. Performance-brick with 30 centimeters. air gap and insulation. Height 4.60 m -Aluminum window frames, suspended ceilings, alarm system, fire v ma-direct contact with fire, CCTV. Air-conditioned. Self suction and force-ventilated for individual rooms. Automated local heating with aluminum radiators. Office and rest room with granite, self-leveling floor of storage area. Fri existing lines to BTC. There are two entrances, ramp and parking. Tire approach. All communications office near the motorway and Thrace. Permits for the sale of medicines, medical devices, and sanitary bandages, food and cosmetics. Is it possible to remove all the separate rooms.