ID: 0037 - Apartments/Complex Sunny day 6 / Complex / Apartment
Location: Sunny Beach
Size from: 28 sq. m.
Type: Apartment
Prise per sq.m. Price starts from:
€390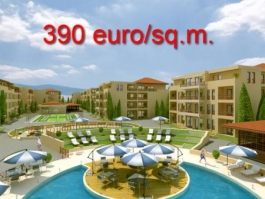 Send to friend
More from the gallery
Hide pictures
General information
Details
Payment plan
Pricelist
Discount
Property management
Furniture
Description
"Sunny day 6" will be completed at two stages: buildings 1 to 20 will be ready for use at the end of year 2009, and buildings 21 to 44 - in year 2010.
Only 7 km far from the golf court at the Bulgarian Black Sea, designed by "Gonzoles and Iakobsen".
We have the pleasure to present you complex "Sunny day 6"!With a opened built-up area of 72 120 sq.m., the project impressed with functionality and exceed the rest of the complexes "Sunny day".
But impressive is not only the size of the village: a nice mixture of a traditional Bulgarian architecture and a normal distance from the full of life Sunny beach resort are offering to all future inhabitants the quietness and cosiness, needed for rest.
"Sunny day 6" is located at the end of the most popular summer resort in Bulgaria - Sunny Beach, only 3 km far from fine sand beaches and plenty of amusements.The ancient and picturesque Nesebar, representing a part of the world cultural inheritance,protected by UNESCO,is 7 km far away from it, at the same distance of 7 km will be located the second most modern golf playground, which will be build in the country near city Kableshkovo.
This city is 15 km far from International Airport in Burgas and 95 km far from those in Varna.
Details
"Sunny day 6" is the biggest complex from the chain "Sunny day". The terrain,where it will be build up is with area of 56 000 sq.m. The residential part will be with opened built-up area of 72 120 sq.m. "Sunny day 6" is designed as closed type complex with limited car traffic.At the territory of the complex there will be build up:
- 44 buildings,each with 4 floors with total 1332 apartments - 494 studios, 556 - 1 bedroom apartments and 282 - 2 bedroom apartments.
- 4 variety restaurants
- 4 coffee-bars
- Health centre
- 2 tennis-courts
- 2 multifunctional playgrounds for volley-ball, basketball and football
- 2 mini golf playgrounds
- 5 external pools
- small amphitheatre with stage, pool and lounges
- Trade - amusement centre with opened built up area of 6930 sq.m. There will be a coffee-bar, restaurant, supermarket, different shops, fitness and Spa Wellness Centre, internal pool, casino etc., too.
1. There are 6 types of buildings:
- Type AL includes buildings- 7; 14; 15; 25; 28; 31; 35; 36
- Type AR includes buildings- 1; 22; 29; 33; 39; 43
- Type B includes buildings - 5; 11; 18; 26
- Type CL includes buildings - 4; 40
- Type CR includes buildings - 8; 9; 10; 19; 20; 21; 32; 44
- Type D includes buildings - 2; 3; 6; 12; 13; 16; 17; 23; 24; 27; 30; 34; 37; 38; 41; 42
2. All apartments will be completed with:
- Floor Covering - laminate parquet
- Wall covering - latex
- Bathroom - terracotta at the floor and faience on the walls,water-heater, completely furnished
- PVC joinery with glasses
- External and Internal doors, made of MDF
- Full cabling
Free of charge transport from the complex to the beach, Aqua park, amusement parks and the trade zone of summer resort Sunny Beach.
Payment plan
Booking fee: 2000 euro
Payment by individual agreement!
Discounts
Buy apartment in complex "Slunchev Den 6" through our company "FMF Properties" and you will receive 5% discount that is not connected in any way with the discounts that the investor is offering.
To receive the discount from the price when buying an apartment in complex "Slunchev den 6" that is given directly from "FMF Properties" you must do the following:
- Send an email to info@fmfproperties.com
- Your passport data
- The number of the studio or apartment that you have chosen in complex "Slunchev Den 6"
- The payment type that is most convenient for you
- Shot text in which you request to receive the discount that is given by "FMF Properties"
After you send the above information we will contact you by phone to give you detailed information for all the other necessary things that you are interested in so that we can initiate the buying procedure for the chosen apartment.
Property management
Management tax and support at 480 Euro per year.
Furniture
The apartments can be furnished as per catalogue at additional charges!
Air-condition with cooling and heating /additional payment of 450 Euro/