ID: 0264 - Apartments / Complex in Sunny beach
Location: Sunny Beach
Size from: 42 sq. m.
Type: Apartment
Price Price starts from:
€44,175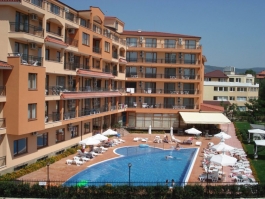 Send to friend
More from the gallery
Hide pictures
General information
Details
Payment plan
Discount
Property management
Description
Complex is situated nearby the Highway Bourgas – Varna, only 15 minutes walking to the beach, bordering one of the green spots in the Western part of Sunny Beach.
Details
The Complex is consisting of 98 hotel apartments in two Sections, offering the style and comfort of furnished self-catering holiday home. Studying floor plans will help you to make proper choice for size and view; Joined outdoor-indoor swimming pool with Jacuzzi; SPA Center; Beauty-studio; Souvenir's shop; Restaurant with delicious dishes for each taste; Green lanes and car park lot; 24-hour Security and Reception Services for the inhabitants…
One of the advantages, which makes the complex attractive and unique is, that thank to the combination between environment, location, futures and services applied – the complex will be open and in operation for the whole year.
The complex is finished: Fully completed apartments with equipped bathroom as well as Air-conditioner /double system/ in the living-room.
Payment plan
Reservation fee – 1000 euro
40% - 2 weeks after signing the preliminary contract
50% - within 2 months
10% - after signing the notary deed
Discounts
Buy apartments or villas in resort Sunny Beach through our company, "FMF properties" and get a discount of 5%, which is not bound in any way with the concessions given to investors.
To receive the discount upon purchase of an apartment or villa in resort Sunny Beach given personally by our company, "FMF properties" you must do the following:
Send us E-mail: info@fmfproperties.com
- Phone number to contact you
- Your passport data
- The number of studio or apartment you have chosen in the complex
- The scheme of payment which you are most comfortable
- Short text in which they would like to receive a discount given personally by our company
Once you send us an email with the information requested by us, we will contact you by phone to explain your in details all the other things that interest you to start purchasing your desired apartment.
Property management
Maintenance fee: 9 e/sq.m.withouth VAT