ID: 0034 - Apartments / complex Santa Marina / Complex / Apartment
Location: Sozopol
Size from: 51 sq. m.
Type: Apartment
Prise per sq.m. Price starts from:
€1,100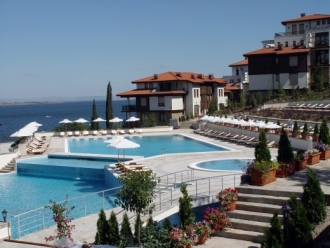 Send to friend
More from the gallery
Hide pictures
General information
Details
Payment plan
Pricelist
Discount
Property management
Furniture
Rentals
Description
The complex is fully completed and put into operation

BEST BEST MARINE PROJECT 2009. / International Competition at the 2009 good project. /
Santa Marina is situated on the first line above the sea. Emphasis in its concept are the services and comfort. The famous Tsar's Beach is located just below the village and pine forests that surround the Santa Marina, make it a more comfortable and enjoyable place to live.
With unique facilities, excellent conditions and outstanding service in Santa Marina ensure a unique lifestyle and recreation. Numerous pools, restaurants, bars, children's center and any additional services in Santa Marina makes an ideal place for vacations, lodging and even long-term residence.
The holiday village consists of 80 3 and 4-storey villas with a variety of apartments and offers a wide range of services and entertainment. The villas are located along the slopes of the bay and provide an unforgettable sea view from most apartments. The complex is built in a distinctive architectural style of the Bulgarian Revival of XIX century. 70% of the area of Santa Maria of about 100 000 sq.m. are devoted to gardens, park paths, parking and entertainment.
Santa Marina Holiday Village is a project of one of the most respected investment companies in Bulgaria - Fairplay International SA (FPI). The complex was awarded the prize "holiday village of the Year" for 2006 in the National Contest Building of the Year.

Details

1. Location:
- Just above the King's Beach
- 2 km north from Sozopol
- 34 km south from Burgas
- 424 km east of Sofia
2. General information:
- Land: 100 000 sq.m.
- Percentage of green spaces: 70
- Total gross floor area: 100 000 sq.m.
- Gardens and serving pieces: 70 000 sq.m.
- Villas: 80
- Apartments: 1 400
- Service centers and entertainment: 5
3. Service center and entertainment 1 provides:
- 3 swimming pools (1082 meters ?)
- Solar balconies and lounges
- Reception
- Porter
- 3 restaurants (100 - 150 seats)
- Children's Center and animation in several languages
- Pool bar
- Lobby Bar
- Piano Bar
- Cooking Live
- Catering
- Massage room
- Shop for basic necessities
- Shop for cigarettes and alcohol
- Medical Center
- Travel agency and car rental
- Rent a bike
- Transfers from and to airports in Burgas and Varna
- Other tourist attractions
- Laundry and Dry Cleaning
- Postal services
4. Service center and entertainment 2 offers:
- 2 pools
- Solar balconies and lounges
- Pizza
- Ice Cream House
- Fitness Center
- Beauty and hairdresser
- Aqua center and spa with sauna, steam room, spa capsules
- Massage room
- Room for relaxation and others.
- Procedures for beauty - Aromatherapy, wine therapy, specialized massages, gentle aromapiyling, treatments for face and body after sunbathing
- Shops
5. Apartments:
Santa Marina offers a wide choice of apartments of various sizes and views. There are four main types of apartments: studios, one bedroom, apartments with two bedrooms and attic studios on two levels. All properties have beautiful terraces, most of which have a sea view.
- The studios have an area of 44 to 56 square meters They have corner living rooms and bedrooms. Kitchenette is located near the bathroom.
- The greatest diversity of apartments with one bedroom, and the area is between 56 and 89 square meters
- The apartments have two bedrooms with area from 82 to 165 square meters In addition to large living rooms and kitchens, these properties also offer a large and fascinated terraces overlooking the sea.
- Mansard studios are size 62 and 73 square meters Because they are located on the highest floors of the villas, these apartments enjoy excellent sea views.
Santa Marina offers a wide choice not only of different apartments and views, as well as a choice between greenfield investment, estate and rough construction completed and fully furnished apartments, which can accommodate immediately.
Although the architecture of the apartments in Santa Marina is carefully planned, as well as building flexibility and allows the investor's own changes in the distribution of property in the early stages of construction.
6. The types of equipment:
- White paste
- Spanish brown
- Rattan
- Beech
- Bamboo
- Wenge
Payment plan

Phase 1 and 2
2000 Euro - reservation fee (keep the apartment 10 days)
100% up to 30 days.
Phase 3
2000 Euro - reservation fee
40% - on preliminary contract
40% - there is scope for deferred payment of up to 3 years
20% - Act 16
Discounts

Buy apartment in Santa Marina through our company, "FMF properties" and get a discount of 5%, which is not bound in any way with the concessions given to investors.
To receive the discount upon purchase of an apartment complex in Santa Marina given personally by our company, "FMF properties" you must do the following:
Send us E-mail: info@fmfproperties.com
- Phone number to contact you
- Your passport data
- The number of studio or apartment you have chosen in the complex Santa Marina
- The scheme of payment which you are most comfortable
- Short text in which they would like to receive a discount given personally by our company
Once you send us an email with the information requested by us, we will contact you by phone to explain your pordobno all other things that interest you to start purchasing your desired apartment
Property management

Management fee and maintenance: 11 euro / sq.m.
All owners of apartments in Santa Marina contribute to the overall maintenance of the holiday village by paying a small annual fee. Amount payable depends on the size of property owned by you or property. The amount of the fee, scope of maintenance, and basic rules for the use of suites of Santa Maria are written in the maintenance and management, which is mandatory for all property owners in the complex. The essence of this contract is to ensure that the settlement will remain comfortable for living and that will also retain his current aesthetic appearance.
Maintenance of the complex and its total land space covers - the common parts of buildings, and the mere holiday village - garden, pool, parking, etc. Services we provide for the maintenance of Santa Maria are:
- 24-hour year-round security and video surveillance
- Maintenance of the garden
- Cleaning of the gardens and common areas
- Maintenance of general equipment of the settlement,
- Support the pools,
- Overall management of the complex
- Manager of Customer Relationship spot
- Reception
- And lifeguards at the pools.
It is important to know that the first year fee is payable on the date of the notary transfer of your property, or before. Of course, you will receive an invoice for your payment. Thereafter, the annual maintenance fee is payable no later than December 31 of the previous year. Amount payable by the owners may be altered depending on inflation in Bulgaria (changes in retail prices of goods in the country) - data that is made formally by the National Statistical Institute each year.
Maintenance of complex does not cover repairs in apartments, renovation of facilities in the villas, taxes and other costs associated with ownership of property, etc. Under Bulgarian law, such costs are the responsibility of the owners of the apartments. Santa Marina can only pay these expenses on your behalf, at your request.
Furniture
Furniture packages are six, of which you can select the right for you apartment. They meet all the requirements for the equipment of 4-star hotels.
Packages of furniture have different colors, materials and styles. Three of them are made of solid wood - Spanish brown, white pasta and Wenge, and the other three - from MDF: Rattan, beech and bamboo.
Of course, at your request of Santa Maria team can offer individual solutions from a variety of materials. You can also order additional individual outside furniture package ordered with furniture at the reception of Santa Marina.
There are two types of granite used for flooring in the living rooms of apartments in Santa Marina - Altemira and Mississippi. In the early stages of construction of your villa you can choose between two or to order other flooring against additional pay.
In the bathrooms you also have a choice in the early stages of construction - "green" or "brown" bathroom.
The color of the walls of apartments in Santa Marina resembles the color of sand. This latex suits both the environment and the different types of furniture.
Rental
Some of our customers of Santa Marina advantage of letting services of apartments for rent time, which do not use their property. For rental to conclude a separate agreement between the apartment owner and management company - FPPM.
Owners may designate within two weeks of so-called. high tourist season during which you will rest in your property, we can rent it out this time. As an owner it is important to define these two weeks in advance to know when we can accommodate tenants in your apartment. Marketing, advertising and the inclusion of your property in the tourism network is the first obligation of the management company under the contract. In this connection, it signed agreements with tour operators and other organizations to ensure maximum occupancy of the apartments that are leased to the Santa Marina.
To rent apartment in Santa Marina, you need to be sure his furniture to meet the standard 4-star hotels (all the furniture packages we offer, meet these criteria). It is also home you need to have certain additional equipment - TV, towels, bed linens, toaster, utensils, etc.. - These items are included in the package for additional equipment and to ensure timely payment of bills for the apartment - in this respect, assist you with package management costs and the costs of cleaning up the property.
Management of the rental is divided into activities which are conducted at times when your apartment is rented, and activities that need to be carried out when properties are not accommodated guests.
Outside height of tourist season, including winter, the managing company continues to take care of your apartment, for example by paying its bills. Head of property management ensures the maintenance of cleanliness and functionality of the property so that he successfully leased.
In periods when the apartment is given to the tenants, manager of property management takes care of this property will be ready for housing - have been cleaned, equipped with the necessary arrangements, towels and other supplies. Cost of electricity, water, cable television, etc. included in the rental price. Among the services provided to guests are the daily cleaning and change of bed linen.
Head of property management you reported the time in which your apartment is rented, the revenue from rental and the cost of apartments beyond the height of tourist season.
The managing company deduct a certain percentage and / or charge for services, advertising and management of your apartment. You get the deduction of income tax each year in December. The payment is specified by your bank account in a contract for your rental. Therefore it is necessary to notify the Head of property management, if you change your bank account to be able to transfer the amount to the right place.