ID: 0234 - Apartments / Complex in Sunny beach
Location: Sunny Beach
Size from: 51 sq. m.
Type: Apartment
Price Price starts from:
€93,584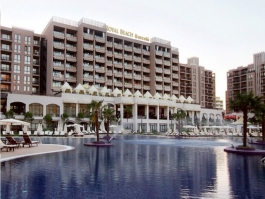 Send to friend
More from the gallery
Hide pictures
General information
Details
Payment plan
Pricelist
Discount
Property management
Furniture
Description
Location – 50 meters from the beach Complex is situated in the center of the most popular Bulgarian Summer Holiday Resort – Sunny Beach at the place of Saturn Hotel. The seaside is a combination of exotic nature and irresistible places for fun and recreation. The resort is rich of entertainment facilities - numerous restaurants, exotic night clubs, modern discos and cafes.
Details
Luxurious 5 star complex with 500 units ranging from studios, one bedroom and two bedroom apartments. The complex will offer to its owners the peace and quite of a beautiful garden of 9000 sq.m with 1700 sq.m pool area, outside jacuzzi, water bar and pool restaurant.
Is an exceptional combination of a breath-taking 5-star hotel, 6 buildings of apartments for sale at a reasonable and profitable price, as well as lots of places for entertainment and recreation. The building represents a unique combination of modern architecture and mystical elements of the traditional Mediterranean art.
Carefully chosen designers' decisions determine the unique construction and secure protection of the greatest possible part of natural vegetation in the complex. Thus the biggest garden in Sunny Beach—over 9 000 square meters- was created.
· VIP heated inside and outside pool, 2 more outside pools and children's section pool.
· Noiseless Lifts.
· Escalators in the shopping center.
· 6 unique thematic restaurants, piano bar, pool bar, a pastry shop, and lobby bar.
· Spa centre, squash hall, steam baths, solarium studios, area for massage.
· 3 conference halls.
· Modern shopping facilities harmoniously combining shopping with entertainment.
· 24 hours reception.
· Underground parking lots.
· Green fences all around the plot.
· 24 hrs security and maintenance, private access.
· Large green areas with children's playground.
Apartments: 500 Fully Furnished Apartments. Types: studio, one-bedroom, two-bedrooms.
· PVC 3 and 4 camera window frames.
· Fully furnished apartments to the latest interior design trends.
· High quality terracotta flooring.
· New type central heating system.
· Bathroom with luxury sanitary equipment.
· High Tech air conditioning split system.

Payment plan
Reservation of the apartment - 2000 Euro (reservation for 10 days)
100 % of the price - 30 days
Discounts
Buy apartments or villas in resort Sunny Beach through our company, "FMF properties" and get a discount of 5%, which is not bound in any way with the concessions given to investors.
To receive the discount upon purchase of an apartment or villa in resort Sunny Beach given personally by our company, "FMF properties" you must do the following:
Send us E-mail: info@fmfproperties.com
- Phone number to contact you
- Your passport data
- The number of studio or apartment you have chosen in the complex
- The scheme of payment which you are most comfortable
- Short text in which they would like to receive a discount given personally by our company
Once you send us an email with the information requested by us, we will contact you by phone to explain your in details all the other things that interest you to start purchasing your desired apartment.
Property management
Maintenance fee: 0.75 euro/month
Furniture
Fully furnished apartments to the latest interior design trends.