ID: 0233 - Apartments / Complex in Sunny beach
Location: Sunny Beach
Size from: 35 sq. m.
Type: Apartment
Price Price starts from:
€25,330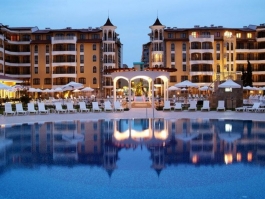 Send to friend
More from the gallery
Hide pictures
General information
Details
Payment plan
Pricelist
Discount
Property management
Description
Complex is the latest development of one of the biggest real estate investors in Bulgaria. The complex is situated in the center of the famous Sunny Beach resort, only 15 km from Bourgas airport.
Details
Total area - 9000 sq.m.
Facilities:
- GARDEN
- SPA CENTRE
- MEDICAL CENTER
- SUPERMARKET SHOPS
- 539 FULLY FURNISHED APARTMENTS
Еxtra-special about this property: PVC (woodwork): PVC Furnished, Panorama, Security police, Regular access Internet, Air-conditioner, Telephone
Payment plan
Reservation of the apartment - 2 000 Euro
for additional 15 days Preliminary contract - 25% of the price
2nd Payment - 25% of the price - 3 months after the preliminary contract
3rd Payment - 25% of the price - 3 months after the 2nd payment
4th Payment - 25% of the price - 3 months after the 3th payment
Discounts
Buy apartments or villas in resort Sunny Beach through our company, "FMF properties" and get a discount of 5%, which is not bound in any way with the concessions given to investors.
To receive the discount upon purchase of an apartment or villa in resort Sunny Beach given personally by our company, "FMF properties" you must do the following:
Send us E-mail: info@fmfproperties.com
- Phone number to contact you
- Your passport data
- The number of studio or apartment you have chosen in the complex
- The scheme of payment which you are most comfortable
- Short text in which they would like to receive a discount given personally by our company
Once you send us an email with the information requested by us, we will contact you by phone to explain your in details all the other things that interest you to start purchasing your desired apartment.
Property management
Maitanance fee: 0.75 Euro without VAT per sq.m per month.