ID: 0232 - Apartments / Complex in Sunny beach
Location: Sunny Beach
Size from: 51 sq. m.
Type: Apartment
Price Price starts from:
€36,708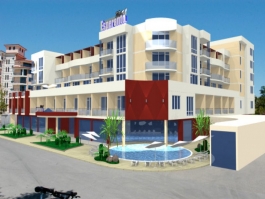 Send to friend
More from the gallery
Hide pictures
General information
Details
Payment plan
Pricelist
Discount
Property management
Description
The last development to be constructed in the exclusive area located just 50 metres from the gorgeous beach, 5 minutes walk to ancient heritage town of Nessebar and 15 minutes walk to Sunny Beach centre.
Details
rea was being built-up in the last 4 years and has now established as top residential area due to its excellent location, proximity to the beach, quietness at night. Many bars and restaurants are already featured around, all hotels and holiday complexes around are newly built and contribute to the lovely environment of the neighbourhood. Building will have 6 storeys and half of it will function as a hotel, thus ensuring high rental returns for the apartment owners. Most apartments will have magnificent sea views and will be overlooking ancient Nessebar. Place used to be top-famous area for shopping and the shopping centre will be rebuilt in a modern style, apartments will be able to use all hotel facilities, also laundry and cleaning service will be provided.
Apartments: Studios and one-bedroom apartments. Apartments will be finished to 4-star quality, bathrooms will be fully equipped, kitchen cupboards from qualified supllier will also be fitted.
Book today to benefit from this excellent investment opportunity.
The complex is completed!
Payment plan
1 000 Euro booking deposit (non-refundable)
Individual payment plan!
Discounts
Buy apartments or villas in resort Sunny Beach through our company, "FMF properties" and get a discount of 5%, which is not bound in any way with the concessions given to investors.
To receive the discount upon purchase of an apartment or villa in resort Sunny Beach given personally by our company, "FMF properties" you must do the following:
Send us E-mail: info@fmfproperties.com
- Phone number to contact you
- Your passport data
- The number of studio or apartment you have chosen in the complex
- The scheme of payment which you are most comfortable
- Short text in which they would like to receive a discount given personally by our company
Once you send us an email with the information requested by us, we will contact you by phone to explain your in details all the other things that interest you to start purchasing your desired apartment.
Property management
Maintenance fee: 7.2 EUR/sq.m. per year.