ID: 0230 - Apartments / Complex in Sunny beach
Location: Sunny Beach
Size from: 37 sq. m.
Type: Apartment
Price Price starts from:
€28,763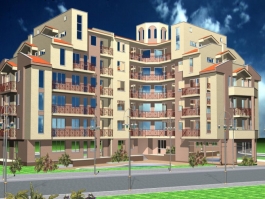 Send to friend
General information
Details
Payment plan
Pricelist
Discount
Property management
Furniture
Rentals
Description
Сomplex is a new development, located at the Western part of Sunny Beach, only 150 m from the longest and the widest beach on the Bulgarian Black Sea coast and 3-4 km. from the town of Nessebar, wchich is historical monument protected by UNESKO. Situated between the beautiful Black Sea coast and the Balkan mountain. Only 20 km. from the international airport in Bourgas.
Details
This modern apartment complex consist of three individual sections (A, B and C), arranged in "L" shape, each with lift ( elevator ).
Designed to the latest trends these contemporary resort buildings are completed with the highest quality materials to provide comfortable stay of their owners or guests. "DOLOMITE" ltd.(investor "SPS" ltd.) is one of the most successful building /development companies on the Black Sea coast, known for their professionalism and a number of completed constructions (resort infrastructure, hotels and apartments) in the leading Bulgarian resort.
The apartment buildings are of a steel/concrete construction with brick walls, thermally insulated and sound proofed. Mineral render is applied to the building exterior.
The complex includes:
- 59 luxury apartments / studio, one bedroom, two bedroom/- all with balconies
- Reception with safe, and phones for international calls
- Bistro
- Swimming pool with jacuzzi and children's pool areas
- Beautifull landscaped communal areas
- Parking lot
- 24/7 year round security guard with entry control from thr main entrance

Payment plan
Reservation fee: 2 000 EUR
Payment plan:
I payment - 50 % - at the signing of the preliminary contract
Individual payment plan.
Discounts
Buy apartments or villas in resort Sunny Beach through our company, "FMF properties" and get a discount of 5%, which is not bound in any way with the concessions given to investors.
To receive the discount upon purchase of an apartment or villa in resort Sunny Beach given personally by our company, "FMF properties" you must do the following:
Send us E-mail: info@fmfproperties.com
- Phone number to contact you
- Your passport data
- The number of studio or apartment you have chosen in the complex
- The scheme of payment which you are most comfortable
- Short text in which they would like to receive a discount given personally by our company
Once you send us an email with the information requested by us, we will contact you by phone to explain your in details all the other things that interest you to start purchasing your desired apartment.
Property management
Maintenance: 6 EUR / m2.
Furniture
Every apartment is furnished and offers high quality, with air- conditioner in every room and blinds on each window. The living area furnitur is nice and includes sofa bed, coffee table, TV and cabinete. Build up phone, internet and cable TV( with local and international chanels including Eurosport, MTV, BBC etc.) system with outlets.Every kitchen is furnished with units hot plate with extractor, fridge, kithen sink with mixing tap. The bathrooms are fully equiped with all the acxesories, shower cabin and boiler.
Rental
With good location and spesific arhitecture offers great place for holiday and oportunity for the tour-operators to provide high occupation through the summer season.