ID: 0032 - Apartments / complex Festa Premium Resort / Complex / Apartment
Location: Pomorie
Size from: 44 sq. m.
Type: Apartment
Prise per sq.m. Price starts from:
€1,200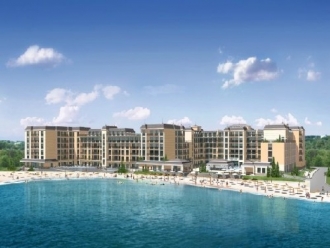 Send to friend
More from the gallery
Hide pictures
General information
Details
Payment plan
Pricelist
Discount
Property management
Furniture
Rentals
Description
The complex is fully completed and put into operation
Complex Festa Premium Resort - Pomorie is situated along one of the most beautiful beaches on the Bulgarian Black Sea coast, on the beach.
Tourist village offers apartments from 40 square meters to 130 square meters. 220 apartments are offered - studios and one bedroom apartments consisting of living room, kitchen, bedroom with balcony and bathroom. Most of them are south and facing the sea. The complex offers a large semi-underground parking locations. Offered for sale apartments can be enjoyed year round.
The hotel occupies a central location in the tourist complex and has 37 double rooms and 10 apartments with magnificent sea views. Coffee and cocktail bar are designed in the same wonderful style, adding an elegant atmosphere in the complex. The complex has a few shops, well-equipped fitness center, and a unique spa center.
Details
Festa Premium Resort is a unique complex with incomparable majesty. Besides the standard features of a 4-star hotel and the huge range of amenities, it offers investment opportunity, which is characterized by stability and choice, which is incomparable to other investment options.
1. Features:
- Three swimming pools
- Two restaurants
- Fitness Center
- Bars to the pool
- Beauty Parlor
- Coffee
- Piano Bar
- SPA center
- Shops
- Underground parking
- Internet Cafe
- Janitor in each building
2. Level of completion:
Flooring - tiles and laminate flooring
Walls - Latex
Windows - PVC joinery
Air Conditioners
Cable TV
Possibility of internet connection
Bathroom / WC - luxury terracotta, faience and sanitary equipment complete
Discounts
Buy apartment in Festa Premium Resort through our company, "FMF properties" and get a discount of 5%, which is not bound in any way with the concessions given to investors.

To receive the discount upon purchase of an apartment complex in Festa Premium Resort given personally by our company, "FMF properties" you must do the following:
Send us E-mail: info@fmfproperties.com
- Phone number to contact you
- Your passport data
- The number of studio or apartment you have chosen in complex Festa Premium Resort
- The scheme of payment which you are most comfortable
- Short text in which they would like to receive a discount given personally by our company
Once you send us an email with the information requested by us, we will contact you by phone to explain your pordobno all other things that interest you to start purchasing your desired apartment
Property management
Company management is concerned with the maintenance of common areas and facilities of Festa Premium Resort. The annual cost of the management fee is 10 euro per sq. m. without VAT on residential areas, in this fee includes the following duties:
- Guard
- 24 hour security
- Gardeners
- Pool maintenance
- Baywatch
- Subcontractor grid
- Subcontracting to water network
- Waste
- Sinking fund
- Maintenance of fire safety
- Decorations
- Maintenance of elevators
Furniture
All the apartments in Festa Premium Resort include furniture and appliances.
The properties will be met with maximum attention to detail, which will result in an extremely stylish look and design with premium performance.
- Furniture in the bedroom - beds, wardrobes, dressing
- Furniture in the living room - sofa, coffee table, TV stand and TV
- Furniture in the kitchen - table and chairs, fully equipped kitchen with refrigerator, oven, hob, steam traps.
- Pots, pans, cutlery, crockery, kitchen appliances
- Bed linen, towels, blankets, etc.
- Lighting
- Curtains or blinds
Rental
Apartment owners can benefit from the services of a company for rental to make more profit on your property than the capital gain. Below is a list of normal duties carried out by the company for renting:
- Maintenance, cleaning rooms, changing of towels (depending on the requirements of the tour operator)
- Repairs to electric grid, sewage and other minor repairs
- Maintenance of furniture and installations in apartment
- Water and electrical measurements
- Disbursement of rent into an account specified by the customer.
- Marketing budget development
- Company's rental may arrange for payment of annual tax "Buildings" which can be deducted from rental income