ID: 0031 - Apartments /Regina Mare / Complex / Apartment
Location: Tsarevo
Size from: 43 sq. m.
Type: Apartment
Prise per sq.m. Price starts from:
€1,500
€940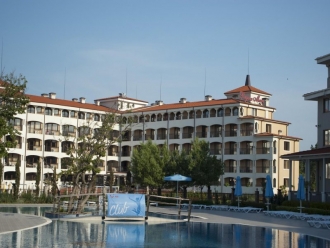 Send to friend
More from the gallery
Hide pictures
General information
Details
Payment plan
Pricelist
Discount
Property management
Furniture
Rentals
Description
The complex is fully completed and put into operation
PROMOTION:
Free fully furnishing for the apartments: A 410, A 504, A 508, B 510, C 202
"REGINA MARE" is a luxury apartment complex located in a convenient and easily accessible location on the beach in TSAREVO. It was designed and built with maximum comfort of its inhabitants, with all required facilities for recreation and relaxation. The complex includes 1 ground floor and 5 residential floors. The building offers a choice of 1-room, 2-room apartments and studios in size from 40 square meters and 120 square meters They are separated into three sections, each of which has its own elevator.
Details
Common areas are luxuriously fitted with: Outer silicate plaster of CAPAROL, CHEMIPLAST and BAUMIT, PVC Facade joinery profiles - system glazed with glass, air-conditioned common areas covered with Spanish granite and Italian technical marble, luxurious elevators with automatic sliding doors.
1. Regina Mare has:
- Reception;
- Lobby bar, restaurant
- Retail outlets;
- Swimming pool with bar;
- SPA center, sports center;
- Business Center;
- Internet room;
- Hairdresser;
- Playground;
- Tennis Courts;
- Doctor;
- Year-round restrictions;
- Parking;
It is provided a modern and luxurious service area, fully consistent with the comfort of owners and guests.
Cleanliness of the apartments are provided by Cleaning service and room service, which will serve the property throughout the season.
2. The apartments will be completed as follows:
- Doors - covered with MDF;
- The floor, terracotta tiles, parquet "type;
- Walls - latex painted in bright colors;
- Air conditioning - split system heating and cooling;
- Bathrooms - tiled with ceramic tiles, decorated with friezes, tiles and equipped with chrome-nickel mixing taps Ideal Standart production of crystal and mirrors;
All the apartments are offered with free kitchen furniture
Payment plan
- 2000 Euro - reservation fee valid for 30 calendar days
- First version - with a delay of up to one year without interest at 40% downpayment
- Second version - with a delay of up to three years with interest at 10% downpayment of 50%
As in both cases - the balance is distributed according to the remaining period so that it is convenient for both customer and company - "Seller".
It is possible the negotiation of individual payment plans.

Discounts
Buy apartment in Regina Mare by our company, "FMF properties" and get a discount of 5%, which is not bound in any way with the concessions given to investors.
To receive the discount upon purchase of an apartment complex in Regina Mare given personally by our company, "FMF properties" you must do the following:
Send us E-mail: info@fmfproperties.com
- Phone number to contact you
- Your passport data
- The number of studio or apartment you have chosen complex in Regina Mare
- The scheme of payment which you are most comfortable
- Short text in which they would like to receive a discount given personally by our company
Once you send us an email with the information requested by us, we will contact you by phone to explain your pordobno all other things that interest you to start purchasing your desired apartment
Property management
Management fee and maintenance - € 9.60 per sq.m. (VAT)
Furniture
All the apartments are offered with free kitchen furniture.
Fully furnishing by Extra charge:
- Standard package for studio furniture Euro 3800
- Standard package furniture for one bedroom 6000 Euro
- Standard equipment package for a two bedroom apartment Euro 7200
PROMOTION:
Free fully furnishing for the apartments: A 410, A 504, A 508, B 510, C 202
Rental
Property owners are offered a contract for after-management, which includes:
- Marketing research of the market in the country and abroad;
- Advertising on site assignments;
- Award of tour companies;
- Employ the facility;
- Cleaning and overall maintenance of the apartments, including laundry, changing bed linen and towels;
- Charge a minimum of materials needed toilet suites and the like;
In the case that the property is provided for managing till entire tourist season, paid the following remuneration:
- For the tourist season in 2010 - guaranteed rental of 5% of the purchase price of the object / apartments.
- The salary is paid once at the latest within a period of December 25 of the year to which it relates.