ID: 0198 - Apartments / St. Kosntantin and Helena
Location: St. Kosntantin and Helena
Size from: 69 sq. m.
Type: Apartment
Price Price starts from:
€94,432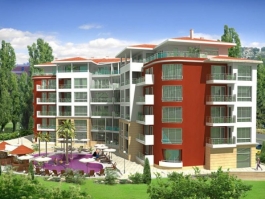 Send to friend
More from the gallery
Hide pictures
General information
Details
Payment plan
Pricelist
Discount
Property management
Description
Complex is located in the "St.St Konstantin and Helen" Resort, 9km north of Varna, the biggest city on the Bulgarian Black Sea coast and in proximity to its international airport with regular flights to and from many European cities.
Details
Complex is a calm residential complex with beautiful sea scenery. The complex comprises of two identical 6 storey buildings with open air terraces on their roofs. It is in close proximity to wonderful authentic restaurants and night clubs in the St.St. Konstantin and Elena Resort and the Golden Sands Resort famous for its wide variety of entertainment and night-life activities.
Golden Amos is a fine modern luxury apartment complex with fascinating architecture and design. It offers all kinds of modern facilities and combines marvelous location and excellent opportunities for a healthy and entertaining daily round.
the complex consists of 49 wonderful and cosy apartments.

Complex is a modern complex offering luxury apartments of exceptionally high quality, impressing with its unique architecture and captivating design. It is provided with all the standard facilities and successfully combines a good location with excellent conditions for both useful and enjoyable lifestyle.
The exterior creates an outstanding atmosphere that radiates tranquility and easiness.
The whole complex is built on a plot of land with an area of 2700 sq. m and a total living area of 5869 sq. m for the finished building.
The complex comprises 49 extremely functional and comfortable apartments, made in accordance with the requirements and the taste of even the most refined and exacting clients.

Additionally, the complex offers some more facilities and entertainment:
- Lobby bar
- Reception - 24 hours
- Hot water mineral swimming-pool
- Pool bar
- Shops
- Children's playground
- Lifts
- Parking with 24 hours security
- Camera security system inside and outside the complex working 24 hours
- The building is provided with the respective chambermaid rooms for the future servicing of the apartments that will be rented out

The complex will include the following completely finished parts:
- Residential complex
- Pool with hot mineral water
- Pool bar
- Landscaped garden
- Allocated parking places

Apartments:
- 42 one-bedroom apartments
- 6 two-bedroom apartments
- 1 three-bedroom apartment

Construction specifications of apartments upon delivery of the building

Hallway
Floor – granitogress
Ceiling - latex paint
Walls – latex paint
Luxury entry door – MDF

Living room
Floor – granitogress
Ceiling - latex paint
Walls – latex paint
PVC double-glaze
Telephone socket
Heating/cooling air-conditioner
TV outlet

Kitchen
Floor – granitogress
Ceiling – latex
Walls – latex

Bedroom
Floor – parquet
Ceiling – latex
Walls – latex
PVC double-glazed
Interior MDF door
Heating/cooling air-conditioner
TV outlet

Bathroom and toilet
Sanitary faience and terracotta tiles
Bath tub/ shower cubicle
Lavatory pan
Wash basin
Cold and hot water taps
Individual water heater
Power point
Electric fan

Balcony
Floor – granitogress
Railing
Apartments are offered with furniture not included in the prices announced, but we can offer you the opportunity to furnish your apartment through us and we are able to offer two main furnishing packages – standard and de luxe. The standard package's price is between 5990 and 8990 EUR depending on the size of the apartment, and the de luxe furniture price is between 7990 and 13 990 EUR, again depending on the size of the apartment.
Apartment's area: ranges from 69.90 sq.m. to 184.38 sq.m.

Payment plan
Резервационна такса – 2 000 Евро
70 % - при подписване на предварителен договор
30 % - не по-късно от 1 месец.
Може да се изготви и индивидуална схема на плащане, но първата вноска трябва да е минимум 50% от цената.
Discounts
Buy apartments or villas in resort Nessebar through our company, "FMF properties" and get a discount of 5%, which is not bound in any way with the concessions given to investors.
To receive the discount upon purchase of an apartment or villa in resort Nessebar given personally by our company, "FMF properties" you must do the following:
Send us E-mail: info@fmfproperties.com
- Phone number to contact you
- Your passport data
- The number of studio or apartment you have chosen in the complex
- The scheme of payment which you are most comfortable
- Short text in which they would like to receive a discount given personally by our company
Once you send us an email with the information requested by us, we will contact you by phone to explain your in details all the other things that interest you to start purchasing your desired apartment.
Property management
Maintenance fee: 9 EUR/sq.m. annual (excl. VAT)