ID: 0184 - Apartments / Complex in Pomorie
Location: Pomorie
Size from: 70 sq. m.
Type: Apartment
Price Price starts from:
€139,660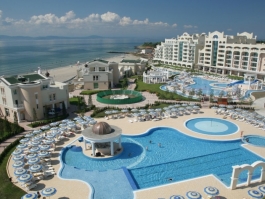 Send to friend
More from the gallery
Hide pictures
General information
Details
Payment plan
Pricelist
Discount
Property management
Furniture
Description
The Resort is located on the very seacoast in the town of Pomorie. The complex offers private beach - 400m long.
The Resort is situated in close proxmity to the main road of Varna-Burgas but away enough in order to secure your peaceful atmosphere.
Details
The Resort comprises 5 hotels and six luxurious villas with total area of 115 000 sq.m.
• 780 studios, 1BR, 2BRs and 3BRs and presidency apartment /1135 sq.m/;
• Four outdoor swimming pools;
• Three pool bars;
• Water attractions spread over more than 3 500 sq.m;
• Indoor swimming pool;
• Cafe and coctail bars;
• Piano bar;
• Restaurants/fish, Asia, Italian, French/;
• SPA and Welness center;
• Medical center;
• Conference hall;
• Sports facilities;
• Bowling;
• Shops;
• Children's club;
• Beauty center;
• High speed Internet;
• Underground garages and outdoor parking lot
All mentioned above turns the Resort into a Luxurious European Resort with all needed facilities for a holiday of full value.
Apartments:
• Floor - moquette in the bedrooms, terracotta tiles in the kitchen box and corridor;
• Walls - plastered and latex painted;
• Ceiling - Gupsym plastered and latex painted;
• Bathroom - terracotta tiles and faience, sanitary wear from Italy;
• Mounted air conditioner;
• PVC joinery;
• MDF interior doors;
• Excellently furnished
All apartments are spacious and comfortable, furnished with all necessary for your holiday.
Payment plan
2 000 euros reservation fee /non-refundable/
50% - within 30 days after reservation fee
50% - individual payment plan
Discounts
Buy apartments or villas in resort Pomorie through our company, "FMF properties" and get a discount of 5%, which is not bound in any way with the concessions given to investors.
To receive the discount upon purchase of an apartment or villa in resort Pomorie given personally by our company, "FMF properties" you must do the following:
Send us E-mail: info@fmfproperties.com
- Phone number to contact you
- Your passport data
- The number of studio or apartment you have chosen in the complex
- The scheme of payment which you are most comfortable
- Short text in which they would like to receive a discount given personally by our company
Once you send us an email with the information requested by us, we will contact you by phone to explain your in details all the other things that interest you to start purchasing your desired apartment.
Property management
EUR 15/ sq.m - annual maintenance tax - common parts, greenery, swimming pool and year round security.
Furniture
Furniture package included in the price!