ID: 0183 - Apartment in Elenite resort
Location: Elenite
Size: 72 sq. m.
Type: Apartment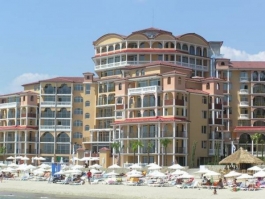 Send to friend
More from the gallery
Hide pictures
General information
Details
Payment plan
Pricelist
Discount
Property management
Furniture
Description
A one-bedroom apartment in complex located in sea resort Elenite!
Details
The complex is located in the resort Elenite - by crossing the bay of Sunny Beach and the sea. Unique nature of South Bulgaria - a combination of mountain and sea. This combination provides clean air and clean sea water.
Atrium is located in the resort of Royal Park - operating system «All Inclusive», apartment owners may wish to service in a 30% discount. The complex is located on the first beach line. Atrium is divided into two parts: the apartment (sea view) and a hotel. The two parts are separated from each other by stairs and lifts.
The complex was built in 2008 and operate at 100 percent.
The apartment:
Ap. №: a705
Area sq.m: 72.95
Rooms: 2
Floor: 7
View: Sea /excellent panoramic sea view/
Price in euro: 160000
The price includes furnishing and equipment.
Description of the complex: The owners of apartments in Atrium have access to the full infrastructure of the complex, which consists of:
1. Aqua Park (30 percent discount for owners of apartments)
2. Bowling, 4 tennis courts, billiard room, mini-golf
3. 10 restaurants (30 percent discount for owners of apartments), several restaurants
4. Numerous swimming pools
5. Surfing Club
6. Odeum - amphitheater
7. Night Club
8. SPA-center (Indonesian and Thai rituals)
9. Beaches - more than 1 km. Width about 20-40 yards! From the entrance of the Atrium to the beach has 18 steps.
10. Trade Center, including food shops
11. Animators at the beach
12. Beautiful paths
13. Medical Center
14. Horse facilities
15. Huge parking lot
16. Own bus lines mini-buses and buses every 15 minutes from Sunny Beach (8 minutes) and Nessebar (15 minutes).
The Atrium building disposes of a restaurant on the first floor, two high speed elevators, at the request of the owner - cleaning and servicing rooms. You can use the package «All Inclusive», if you do not want to cook yourself!
We offer non-standard ready-furnished apartment with high quality finishing and fine furnishings and equipment. Mode "Turn key".
The apartment is for sale furnished and equipped with (include in the price).
Payment plan
Reservation fee – 2 000 Euro
First installment – 30 %
Individual payment plan.
Can be pay by regular installments.
Discounts
Buy this apartment in resort Elenite through our company, "FMF properties" and get a discount of 5%, which is not bound in any way with the concessions given to investors.
To receive the discount upon purchase of an apartment or villa in resort Elenite given personally by our company, "FMF properties" you must do the following:
Send us E-mail: info@fmfproperties.com
- Phone number to contact you
- Your passport data
- The number of studio or apartment you have chosen in the complex
- The scheme of payment which you are most comfortable
- Short text in which they would like to receive a discount given personally by our company
Once you send us an email with the information requested by us, we will contact you by phone to explain your in details all the other things that interest you to start purchasing your desired apartment.
Property management
8 euros / sq.m. per year.
Furniture
The price includes furnishing and equipment.