ID: 0181 - Apartments / Complex in Elenite
Location: Elenite
Size from: 58 sq. m.
Type: Apartment
Price Price starts from:
€160,000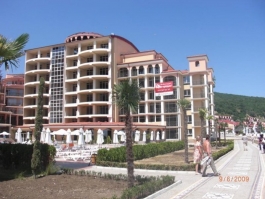 Send to friend
More from the gallery
Hide pictures
General information
Details
Payment plan
Discount
Property management
Description
The complex is located in Elenite holiday village, the first line of the coast. Elenite Holiday Village is located in the eastern slopes of the Balkan Mountains in an area surrounded by old oak trees. Elenite is a resort suitable for family holidays and hiking club.
The resort hotels all have swimming pools for adults and children, entertainment facilities, restaurants offering Bulgarian and European cuisine, discos, bars, cafes, shops and clubs.
Details
The complex is located only 18 meters from the beach. It consists of 84 apartments. They all offer view to the sea.
Completion date: May 2010!
Payment plan
Reservation fee - 2 000 Euro
40% - 30 days after the reservation fee
60% - at the individual payment plan
Discounts
Buy apartments or villas in resort Elenite through our company, "FMF properties" and get a discount of 5%, which is not bound in any way with the concessions given to investors.
To receive the discount upon purchase of an apartment or villa in resort Elenite given personally by our company, "FMF properties" you must do the following:
Send us E-mail: info@fmfproperties.com
- Phone number to contact you
- Your passport data
- The number of studio or apartment you have chosen in the complex
- The scheme of payment which you are most comfortable
- Short text in which they would like to receive a discount given personally by our company
Once you send us an email with the information requested by us, we will contact you by phone to explain your in details all the other things that interest you to start purchasing your desired apartment.
Property management
12 Euro / sq.m. per year, excluding VAT.