ID: 0178 - Apartments / Complex near Golden Sands
Location: Golden Sands
Size from: 62 sq. m.
Type: Apartment
Price Price starts from:
€89,400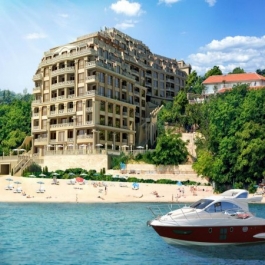 Send to friend
General information
Details
Payment plan
Pricelist
Discount
Description
The complex in located:
2 km. to Golden Sands and Sts. Konstantin and Helena resorts
13 km. to the centre of Varna
16 km. to the port and the railway station
20 km. to Varna airport
30 km. to the closest golf course in Balchik
Details
Description: Luxurious closed-type complex with 161 panorama apartments, from 63 to 300 sq. m., and 144 parking seats 24 hours video surveillance, security, and a concierge
Extra facilities: Mineral water outdoor pool with own thermal spring, Professionaly designed SPA Centre.
Apartments: studios, one-bedroom and two-bedroom apartments.
Completion date - 12.2010!
Payment plan
Reservation fee - 3 000 EUR (reservation for 14 days).
І installment - 40% on the preliminary contract.
ІІ installment - 20% - within 5 days after finishing the construction of the floor level where the appropriate apartment is situated/part of preliminary contract.
ІІІ installment - 20% - within 5 days on the roof stage.
ІV installment - 20% - Act 16.
The notary transfer of the ownership is possible on the second installment.
Discounts
Buy apartments or villas near resort Golden Sands through our company, "FMF properties" and get a discount of 5%, which is not bound in any way with the concessions given to investors.
To receive the discount upon purchase of an apartment or villa near resort Golden Sands given personally by our company, "FMF properties" you must do the following:
Send us E-mail: info@fmfproperties.com
- Phone number to contact you
- Your passport data
- The number of studio or apartment you have chosen in the complex
- The scheme of payment which you are most comfortable
- Short text in which they would like to receive a discount given personally by our company
Once you send us an email with the information requested by us, we will contact you by phone to explain your in details all the other things that interest you to start purchasing your desired apartment.