ID: 0172 - Apartments / Complex in Golden Sands
Location: Golden Sands
Size from: 69 sq. m.
Type: Apartment
Price Price starts from:
€103,000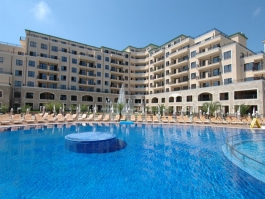 Send to friend
More from the gallery
Hide pictures
General information
Details
Payment plan
Pricelist
Discount
Property management
Rentals
Description
The apartments are in modern luxury complex, located just on the beach strip in the heart of Golden Sands Resort.
Details
9 - storey complex.
Facilities:
- each residential section has a separate lobby and lift
- flats from 60 sq.m -280 sq.m
- each residential section is thermo-insulated
- stone-panelled common parts
- modern lifts
- air-conditioning
- flooring: terracota, laminate
- 3-layer window and door
- 24-hour security service
Apartments: one-bedroom, two-bedroom and three-bedroom apartments.
Entrance and corridor: flooring – terracotta; walls - wall-paper; ceiling - latex
Living room: flooring – laminate; walls - latex paint; ceiling - latex paint
Terrace: granitogras
Bathroom: flooring – stone; faience fixtures
Doors: solid; natural materials
Bedroom: flooring – laminate; walls – wall-paper; ceiling – latex
Date of finishing constructions works 09.2008!
Payment plan
Reservation fee – 2 000 EUR.
50 % on preliminary contract.
20 % payable up to 1 month after signing of the preliminary contract.
30 % by 1st September.
All prices exclude VAT.
Discounts
Buy apartments or villas in resort Golden Sands through our company, "FMF properties" and get a discount of 5%, which is not bound in any way with the concessions given to investors.
To receive the discount upon purchase of an apartment or villa in resort Golden Sands given personally by our company, "FMF properties" you must do the following:
Send us E-mail: info@fmfproperties.com
- Phone number to contact you
- Your passport data
- The number of studio or apartment you have chosen in the complex
- The scheme of payment which you are most comfortable
- Short text in which they would like to receive a discount given personally by our company
Once you send us an email with the information requested by us, we will contact you by phone to explain your in details all the other things that interest you to start purchasing your desired apartment.
Property management
8 EUR/sq.m. per year.
Rental
there is an opportunity to provide good management of the property and high standart rental service.