ID: 0161 - Apartments / Complex in Pomorie
Location: Pomorie
Size from: 38 sq. m.
Type: Apartment
Price Price starts from:
€54,100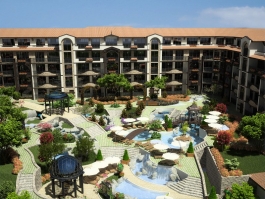 Send to friend
More from the gallery
Hide pictures
General information
Details
Payment plan
Pricelist
Discount
Property management
Furniture
Description
The 4 Star complexes that is based on healthy lifestyle and recreation.
The complex is located on the Bulgarian black sea coast, in the town of Pomorie, 150 meters to the sea.
The building company of the complex has built the 5 star Balneohotel Pomorie which is the winner of the award "Best hotel for 2007" in Bulgaria.
Details
This complex shall be used for permanent living, summer residence as well as commercially rented apartments. Therefore we shall include from the beginning the possibility of look-of rooms and large storage spaces.
The design of the apartments should have a maximum of open territory and a minimum of corners and columns in this area!
Our target is to get a maximum of quality living space out of this complex.
The Design: In general we are looking for a common Bulgarian design but with a touch of Themed elements! The complex shall carry a name according to the design! Keep elements of this them in all decorations and facilities!
All the entrances shall be rich in design and inviting.
The outside of the complex and the courtyard of this complex shall be a beautiful park and green zones with fountains, alleys and rest area!
A Family oriented entertainment complex with pool area active and recreation area. Swimming pool – approximately 200 - 250 m² water mirror with a dept from 90 cm to 160 cm. The design of the wet area shall be closer to natural pond than an Olympic pool! The Baby pool – approximately 30 m² water mirror, dept from 20 cm to 50 cm with water slide and décor. Kids facilities with themed wet and dry active zone. Outdoor Playground for children, 3 units.
A themed Wellness complex, a sauna or Banya shall offer a unique ambience. There are to be at 2 units of private SPA, differently themed and each of them having a changing room, common room, wet area and rest area! Each unit shall accommodate from 2 to 6 persons at the time. From the private SPA the public area, wellness area, should be accessible! A fitness center and some training rooms shall complete the active section of this complex.
In the F&B sector we shall offer:
- "Balkan Grill" - A restaurant with 80 – 120 seats indoor and the same outdoor, this restaurant shall have a full operating kitchen and storerooms (main kitchen).
- "Delicatessen store" - also known as , selling off the counter (3-4 meters) only for take away (operating from main kitchen of the restaurant)
- Parking - According to Bulgarian law there have to be 30 % of parking places for each.
Other service rooms, cleaning units and storage facilities according to Bulgarian law and to ISO 9001:2000
The front line of the building (main street) shall offer some shops and souvenirs but in a moderate amount! The rest of the ground floor should be some other commercial business (may be medical).
Completion Date: May 2010!
Apartments: Studios, One-bedroom, Two-bedroom and Three-bedroom apartments, Penthouses.
Apartment's area: from 37,69 sq.m. to 189,71 sq.m.
Prices from: 1212 euro/sq.m.
Payment plan
Reservation fee – 1000 EUR
1. 100 % payment - 10 % Discount
2. 50 % - 20 % (October), 20 % - (February 2010), 10 % - Act form 16 - 5 % Discount
3. 30 % - 30 % - 30 % - 10 % - 2 % Discount
Discounts
Buy apartments or villas in resort Pomorie through our company, "FMF properties" and get a discount of 5%, which is not bound in any way with the concessions given to investors.
To receive the discount upon purchase of an apartment or villa in resort Pomorie given personally by our company, "FMF properties" you must do the following:
Send us E-mail: info@fmfproperties.com
- Phone number to contact you
- Your passport data
- The number of studio or apartment you have chosen in the complex
- The scheme of payment which you are most comfortable
- Short text in which they would like to receive a discount given personally by our company
Once you send us an email with the information requested by us, we will contact you by phone to explain your in details all the other things that interest you to start purchasing your desired apartment.
Property management
12 euro/sq.m.