ID: 0159 - Apartments / Complex in Pomorie
Location: Pomorie
Size from: 48 sq. m.
Type: Apartment
Price Price starts from:
€58,260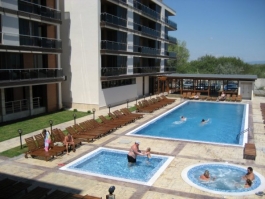 Send to friend
More from the gallery
Hide pictures
General information
Details
Payment plan
Pricelist
Discount
Property management
Rentals
Description
A fantastic development named after the beautiful Pomorie Bay surrounded by the best beaches in Bulgaria.
It is located only 8 km from Bourgas International airport connecting it to all major European and world destinations.
The resort is only 15 km away from Bourgas, a main administrative centre in Bulgaria and within closed proximity to the fascinating resort of Sunny Beach and the old town of Nessebar, a Unesco World Heritage Site.
Details
The complex is located right next to the beach of Pomorie Bay and comprises of 116 apartments from 45 to 165 sq m offering unsurpassed sea views.
The complex will offer a full spa and a fitness studio to make your days even more pleasant and fulfilling.
The development is popular for yachting and sailing and the pier is often used by amateur fishermen.
Facilities: Swimming pool, Jacuzzi, Modern fitness centre, Sauna,Spa facilities – massage and cosmetic rooms, Conference centre, Reception area, Restaurant overlooking the water, Lobby bar, Outdoor children's play area, Panoramic sea view glass, elevator, 24 hour security, Internet, Satellite TV
Apartments: studio, apartments with one bedroom, apartments with two bedrooms
Home Package "Ready to Live":
Complete home packages, inclusive of interior design, delivery, fitting and installation, all furniture and equipment are offered at an additional price.
Payment plan
- 1000 EUR reservation fee
- 50 % from the price – at the signing of the preliminary contract
- 50 % from the price – at the signing of the notary deed (within 2 months).
Discounts
Buy apartments or villas in resort Pomorie through our company, "FMF properties" and get a discount of 5%, which is not bound in any way with the concessions given to investors.
To receive the discount upon purchase of an apartment or villa in resort Pomorie given personally by our company, "FMF properties" you must do the following:
Send us E-mail: info@fmfproperties.com
- Phone number to contact you
- Your passport data
- The number of studio or apartment you have chosen in the complex
- The scheme of payment which you are most comfortable
- Short text in which they would like to receive a discount given personally by our company.
Once you send us an email with the information requested by us, we will contact you by phone to explain your in details all the other things that interest you to start purchasing your desired apartment.
Property management
360 EUR per year.
Rental
There is an oportunity to provide good management of the property and high standart rental service.