ID: 0157 - Apartments / Complex in Sozopol
Location: Sozopol
Size: 34 sq. m.
Type: Apartment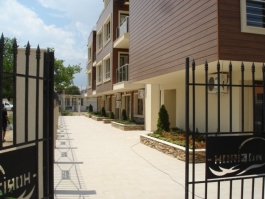 Send to friend
More from the gallery
Hide pictures
General information
Details
Payment plan
Pricelist
Discount
Property management
Rentals
Description
We offer apartments for sale in Sozopol holiday complex, situated on the first line to the beach, right next to a water slide in town of Sozopol.
Here the owners will enjoy an unique atmosphere of the old town and feel the sea breeze coming from Harmani Beach each time when they step out on the terrace of their apartment.
Located just 2 min. away from the South Black Sea coast, Sozopol is at about 30 km distance to Bourgas city.
Details
Includes 96 apartments, an uderground parking lot with 73 places, a restaurant, a swimming pool, a children playground and tennis courts. The infrastructure around the complex is well-developed.
The U-shapped building consists of 2 harmonious sections A and B, each one with 3 residential floors and a mansard floor. There is a stunning panoramic view of the sea revealed from most of the dwellings.
The future owners can take advantage of the property maintance and security system within the completion.
The complex is finished: June 2009!
Payment plan
Reservation fee - 2000 EUR.
Individual payment plan!
Discounts
Buy apartments or villas in resort Sozopol through our company, "FMF properties" and get a discount of 5%, which is not bound in any way with the concessions given to investors.
To receive the discount upon purchase of an apartment or villa in resort Sozopol given personally by our company, "FMF properties" you must do the following:
Send us E-mail: info@fmfproperties.com
- Phone number to contact you
- Your passport data
- The number of studio or apartment you have chosen in the complex
- The scheme of payment which you are most comfortable
- Short text in which they would like to receive a discount given personally by our company
Once you send us an email with the information requested by us, we will contact you by phone to explain your in details all the other things that interest you to start purchasing your desired apartment.
Property management
7 euros/sq.m. per year.